Resident Evil 3 Remake has mapped out some future DLC plans. Here is everything you need to know about the upcoming DLC in the game.
No Single-Player DLC plans
A leaker from Capcom has revealed that there are no single-player driven DLC that is in development for the game and it's unlikely that there will be. This is due to the fact that M-Two Team is already working on another game that will be taking up their major space.
Resistance doesn't live up to its full potential, every player will agree to this statement. No inclusion of Single-player content with the very short Nemesis campaign doesn't give us any hope for the future.
It has been earlier reported that M-Team Two is working on Resident Evil 4 to be released in 2022. Let's see how that pans out.
Jill Valentine DLC
Resistance will be getting their special character, Jill. The DLC will be launched on April 17th. The Survivor Team will get Jill as a character as they hunt down Nemesis. The skills and abilities are still unknown but it will be fun finding out.
DLC Costume List
Two Pre-ordered costumes are in DLC pack of the game. There is no news that there are any upcoming costumes as DLC, so stay tight.
–CARLOS ORIGINAL COSTUME
                                      -JILL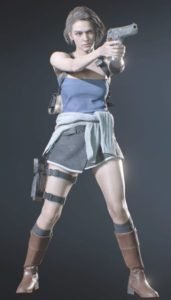 ORIGINAL COSTUME
DLC or "downloadable contents" are extra features & contents that are not part of the base game. DLC will need to be downloaded separately from the base game for players to be able to enjoy their contents.
Even though Capcom is known for their additional downloadable content, it seems they have moved on after the Resident Evil 3 Remake and we shouldn't expect anything out of the extraordinary to come out. Majorly because of the new game that is in tow. Aesthetic Gamer tweeted about it explaining:
Everyone keeps on asking me about RE3 DLC.

The honest answer is – I don't know. That said, I find it incredibly unlikely as to my knowledge work stopped on RE3 some time ago. M-Two are already working on another game.

Resistance has some updates coming up if interested in that.

— AestheticGamer aka Dusk Golem (@AestheticGamer1) April 11, 2020