OnePlus has created ripples yet again in the smartphone industry with the launch of Hydrogen OS 11 (China) based on Android 11. The developer's version wasn't even completely out in the open that twitter techie TechDroider dropped the news of the public beta's arrival for various OnePlus devices. The tweet interestingly doesn't differentiate between Hydrogen OS 11 and Oxygen OS 11. This suggests we can expect the two arriving at the same time.
The DP 3 Android 11 released today (August 10) will be tested at an appreciable pace. According to TechDroider (has a reputation for breaking such news) OnePlus 8 and 8 Pro will get the stable public beta version by Mid October 2020. Do not feel disappointed if you do not own the OnePlus 8 series phone, the company has taken care of you as well. Models preceding One Plus 8, namely, OnePlus 7T, OnePlus 7/OnePlus 6T/ OnePlus 6 should all receive the stable release by Mid-December. A long wait, right? We feel its especially a little too long for the 7 Series users, but unfortunately, we aren't calling the shots here.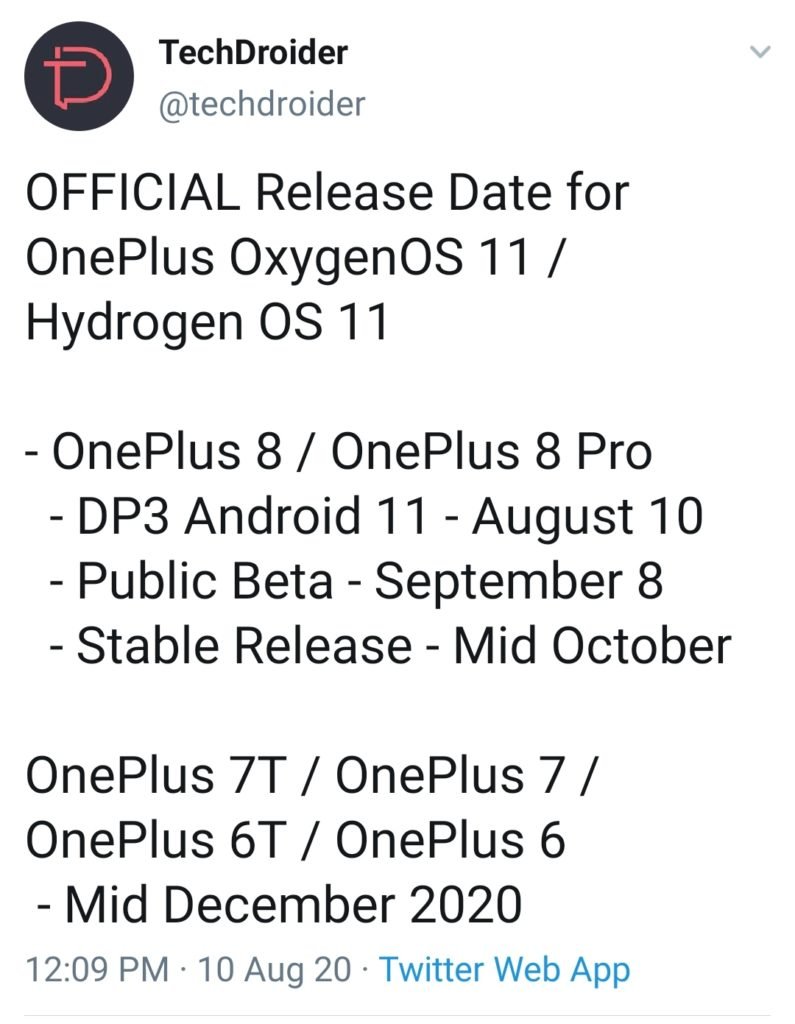 So that's mostly about when you're getting the update, but the real question is, what are you getting? For starters, you get an easy to use one-handed interface, so those 6.5+ inch screens wouldn't prove too big for anyone, in any situation. Just like the One UI 3.0 by Samsung, the dark mode has now been made system-wide, with a shortcut placed in drop from the top menu. Then, there is definitely something people waited in apprehension for. OnePlus had been teasing its customers of bringing in a display that doesn't go off, and clearly the public wanted it to be a reality. Behold, the always-on display (AOD) is here, and boy oh boy, it is stunning. You can even set the home screen wallpaper in the AOD mode, a masterclass from OnePlus, truly. With Google's Android 11 expected to arrive soon, most brands have started rolling out developer's version of their OS systems. But, as it stands, we don't see OnePlus being bothered by its rivals after watching the well-poised, Oxygen OS11/Hydrogen OS11.