As we inch closer to the launch of Android 11, many OEMs are rolling out the Android 10 updates for the left-out devices. Chinese OEM Realme is one of them as well. Realme UI is the custom OS for Realme devices which runs on top of Android 10. Many Realme devices that still ran ColorOS are getting updated to Realme UI. As we saw earlier, Realme is working on the latest iteration of its upcoming Realme 2.0 Custom OS. This will come with Android 11 and will bring along a lot of features. Well, before that we have a couple of devices that are receiving the Realme UI update based on Android 10.
Talking about the left-out devices, the Realme 5 and 5s are still running on Android Pie. They came with ColorOS 6 out of the box and have still not received the Realme UI update. Both of these devices are some of the great budget smartphones in the market right now and offer an insane amount of value for money.
Realme UI Early Access for Realme 5, 5s now live!
If we look properly at the stats, Realme has been very consistent this time in delivering updates to its devices. The OEM has been delivering updates accordingly as the official roadmap. Many devices are already running the Realme UI based on Android 10. Well, Realme UI is a major improvement over the previous versions of ColorOS. It brings along a better and minimal UI design, animations, icons and a lot more. Not just the looks, but it also comes with some of the coolest features that come in handy at times.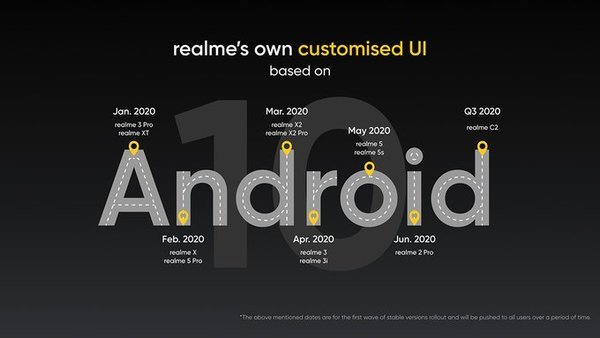 Well, according to the official roadmap for the global rollout of Realme UI, the Realme 5 and 5s are scheduled to receive the update in May. Maintaining that consistency so far, Realme is here with the Realme UI update for these two devices. No, the updates are not yet rolling out but yes, they will soon start to roll out globally. Realme has now officially announced that the early access program for the Realme 5 and the 5s is now live. This amazing piece of news comes straight from the official Realme community forums.
So, if you want to get a taste of the latest Realme UI based on Android 10, you can go ahead and apply for the early access program right now. Well, you can do this very easily. What you need to do is just go to Settings> Software Update> Tap on the Settings icon on the top right corner> Trial version> Submit details and Tap on Apply now. That's it.
Do remember, you should already be running the latest firmware with version RMX1911EX_11_A.28. Also, keep in mind that you won't be able to downgrade to previous versions once you update your device. Before updating, make a wise decision as you might end up with a buggy device just in case things go the other way.
Stable Realme UI Android 10 Update coming soon:
This is pretty certain that Realme will soon roll out the final and stable build of the Realme UI update fo the Realme 5 and 5s. The update will start rolling out in a few days or weeks. So, you can wait for the final stable rollout, if you don't want to end up with bugs. Most probably, there shouldn't be any major bugs or a lot of bugs if you apply for the early access update. So, finally, the wait comes to an end.
Just a few more days and all the units of the Realme 5 and the 5s will be running Android 10. That's great, isn't it? So people, keep waiting until then.
Stay tuned for further updates on Android 10 update for the Realme 5, 5s, and more such related content. Also, share this article with all those people who have been eagerly waiting for this update.
---
SEE ALSO: