Owned by Chinese OEM Xiaomi, Redmi is a sub-brand that devotes solely to manufacture some of the stunning mid-rangers and budget centric devices out there. After continuously conquering the tag of the No.1 Smartphone brand in India, Redmi is still thriving to come up with awesome innovations and amazing devices with every passing day. Well, that's Redmi for you. These days Redmi is busy manufacturing some awesome mid-range flagships which they have proved to deliver in the past as well. Now, Redmi is all set to launch its latest mid-range flagship: the Redmi Note 9 Pro Max.
The Redmi Note 9 Pro Max is going to have a huge and beautiful 6.7 inches 1080p IPS LCD Panel. The device is going to house the powerful Mediatek Dimensity 800 SoC. The Note 9 Pro Max houses a gigantic 6 GB RAM and is surely going to be a beast when it comes to performance. It also has a storage capacity of 64 GB. The device will also come with Fast Charging alongside a massive 5300 mAh battery. The Note 9 Pro max has a quad-camera setup at the back with a 64 MP primary sensor and a 20 MP punch-hole selfie camera. The device looks absolutely stunning with its curved glass back.
Redmi has officially announced that they will be announcing the Redmi Note 9 Series on 12 March in a huge online event. However, we are not pretty sure about the rumored Redmi Note 9 Pro Max variant. According to rumors and sources, The Redmi Note 9 Pro might launch on 12 March 2020. There are huge chances of Xiaomi announcing this rumored device on 12 March.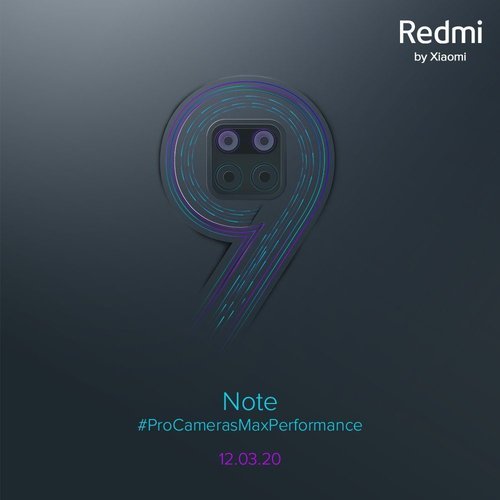 Even if the Redmi Note 9 Pro Max is not announced on the said day. We are pretty sure that Redmi will very soon be announcing this device as well. The Redmi Note 9 Pro Max has already stepped up into the wishlists of many people. Let's wait and see for ourselves if Redmi will be announcing this device on the said date and how the device performs after its launch.
Stay tuned for more updates about further developments on the Xiaomi Redmi Note 9 Pro Max. Also, share this article with all those Redmi lovers who have been waiting for this amazing device.