Realme has launched its 125W UltraDart charging through which you can charge your phone to 33% under 3 minutes. The Chinese brand had previously introduced its 65W charging technology with the Realme X50 Pro 5G. Now the company is trying to fix the worries of high power consumption in 5G phones. Realme has promised that a phone, with 4000mAh battery could be charged to 100% within 20 minutes.
Realme's 125W fast charging technology can charge a phone's battery with 4000mAh to 33% in just under three minutes. The new tech promises to keep the temperature controlled around 40°C to maintain the charging speed and safety. Realme also says that the tech could acheive a charge of a full 100 percent in just 13 minutes without the temperature controlling. It is expected to charge a 5G smartphone to its full capacity in just 20 minutes. Realme says that the charging technology offers multi-layered protection to any mishappenings while charging your phone. The company says that the 125W UltraDart could continue charging even when the screen is on or games are being played on the device. Although there is no hint to a timeline as to when this technology will start rolling out in devices.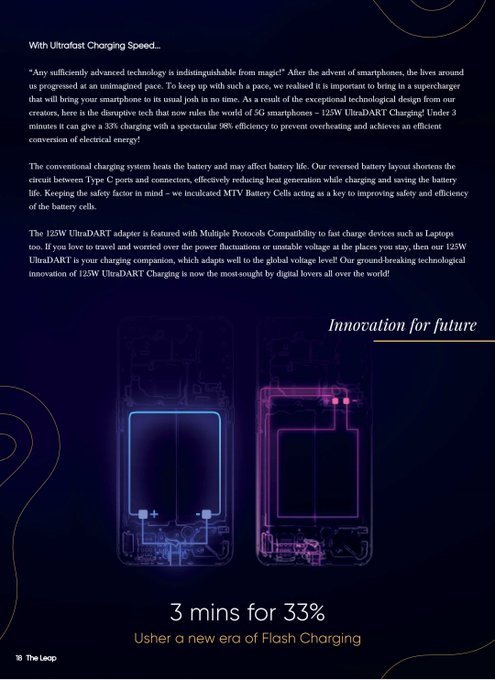 NOTE- Photos used in this article have been taken from TechnoAnkit1″s Twitter Handle.