Gaming professionals have grown both in their style and approach over the years. Youtube has emerged as a brilliant medium for gaming enthusiasts to connect over their love for gaming. Many people believe that to enjoy an imperial experience of games one needs to have a system with supreme specifications. Well, there is no denying that. A system fueled by great graphics and good memory capacity is a pre-requisite, but that alone is not sufficient. True gaming enthusiasts like to invest in the best gear to allow themselves to immerse in the virtual world. In this post, we talk about a gaming mouse that puts you in the driving seat irrespective of the game. Introducing, Razer Naga Pro.
A quick guide of the Razer Naga Pro
Naga Pro is a wireless modular mouse which aims at providing a hassle-free and easy in-hand feel control to the user. It adds to the HyperSpeed wireless family that has been a huge hit for Razer. The sides feature swappable plates that make adapting to games of various genres a piece of cake. Razer Naga Pro will continue on the legacy of wired Naga Trinity (2017), Razer's first three-in-one modular design mouse. The premium feel of the mouse has been successfully retained while the 12-button plate brings the luxury of ample customization. The 6-button plate makes its debut for Razer which has been installed especially for MOBA or Battle Royal like games.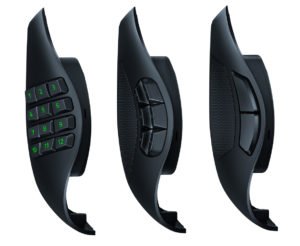 In total, while holding the mouse you are in-charge of 20 buttons placed all around keeping your convenience in mind. It may sound like you have been asked to take control of an aeroplane's pilot console, but the gaming community has given its nod. What truly adds to your gaming experience is Razer Hypershift, a feature that can be enabled through Synapse software. You can layer each button with a secondary function. Sporting market-leading tech in Razer Focus+ 20K DPI Optical Sensor, you would not feel any lag given the high-pixel accuracy. Priced in a range of $149-$169 USD, claims of 70 million clicks make it the Alpha amongst all Nagas.