PUBG Season 6 is finally coming to an end and the new season is arriving tomorrow on live server. And according to the official press release, the developers are bringing a lot of new stuff along with improvements to the existing features in the game. Here, we will be mentioning all the details you need to know about the new upcoming season 7 update of PUBG.
The new update patch version 7.1 will be available for PC platforms on April 21 and later on consoles. The new patch brings season 7 update with new content like a new weapon, new survivor pass, improvements in Vikendi map and other bug-fixes. Here, you can check out the details for the survivor pass.
PUBG Season 7 Survivor Pass: Cold Front –
Vikendi 2.0 –
With the season 6 update, the developers brought a new map in PUBG called Karakin. The new smaller map with a destructible environment brought fast-paced and intensive matchmaking. but, with the season 6 update, the developers rolled back the Vikendi map for improvements.
And it looks, Vikendi 2.0 is finally here. The new version brings betters graphics and several changes in the map. The new features in Vikendi include a new Cargo Depot and Trains with 6 stations across the map.
Trains have been added and can be found moving along multiple tracks across Vikendi

There is a major train line that extends along the perimeter of Vikendi, with 6 connected tracks towards the inland areas of the island
Trains stop temporarily at train stations across the map

Reduced snow cover

Snow cover is reduced more on the Southern areas of the island

Snowbikes and Snowmobiles have been removed

Motorcycle and Motorcycle with sidecar will spawn instead, being more versatile vehicles for the updated terrain

Weather will be either Clear or Snowy.

Moonlight has been removed for now, but will return with visual improvements at a later date.

General map optimizations have been made
You can play the updated Vikendi in custom matches
A new Cargo Depot has been added
New Weapon: Mosin-Nagant –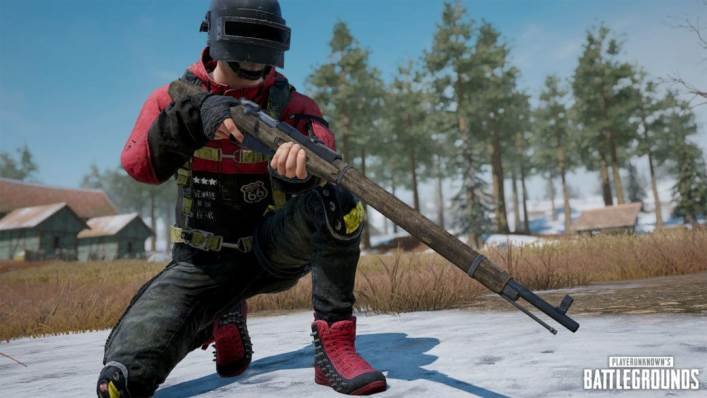 Season 7 also brings a new weapon. The all-new Mosin-Nagant Sniper Rifle has been added to Vikendi and Erangel maps. But, the developers say that stats, attachments, ammunition are directly copied from Kar98k. Mosin-Nagant Sniper Rifle is basically a Kar98k with a different sound and look.
Other Details –
Community Missions
All players can contribute to the community gauge to unlock videos and receive community skin rewards
1 video, 4 skins can be unlocked by accomplishing the community missions
To complete, Loot event items in public (normal) matches
As before, the community mission gauge is filled as such:

Disc piece: 1 point
Broken disc: 2 points
Old DVD: 3 points

On the Community Mission tab, you can see your personal contribution score and will earn XP towards your Survivor Pass

2000 XP per 50 points contributed
Season Missions
There are three tracks of Season Missions
Each track will be released monthly in April, May and June
Tracks that are locked will show the time left before they are unlocked
Progression Mission
Players can earn large amounts of XPs when completing Progression Missions
Tracks 1 and 2 are available to all players and contain a set of 8 missions each that increase in difficulty
Track 3 is open for Premium Pass holders and contains a set of 10 missions that increase in difficulty
Milestones are completed when a set goal is achieved related to daily, weekly, and challenge missions.

Example: Complete  total number of 50 missions
Challenge Mission
These are 'Survival' Themed challenge missions
Challenge Missions are composed of 16 total missions. Every 4 missions completed will grant a Utility belt and Backpack skin as a reward
Skin & Items
New skins have been added.
Dinoland T-shirts (Available April 22 until July 22)
Labor Day skins (Available April 29 until May 27)

Flying Chicken Neck Pillow
"Baby Bear" Sleep Mask
Sleep Mask
---
PUBG Season 7 Release Date –
The new PUBG season 7 is releasing tomorrow, that is, April 21 for PC platforms. For console platforms, the update will roll out later on April 28.
Stay tuned for more updates and news.