A new update is almost here for the last week of the PUBG season and we are excited! Here is every bit of leaked information and scrape by for the new update that will give you an edge in the game. Features, new weapons, and everything else in 0.18.0 update.
Apparently, the next season dubbed as the 'Toy Playground' will be dawning upon us sooner than later but that is another news. The leaked information on the update is provided by Youtuber Rey Lagarto and if he is correct, then we will see some much-needed changes to the game.
Update 0.18.0 Details
Scoped Winchester
The Win94 rifle is getting an in-built scope update. The rifle is a sniper and adding a 2.7x scope with it makes it a bit more versatile. Now the gun can be used as a mid-range sniper. Now if you no scope somebody that will be cooler.
P90 SMG
This gun will be wrecking down the corridors of Player's Unknown Battlegrounds in no time. We are sure it has the capability to become a player's fav SMG in no time. 50 bullets sprayed in a clip with high bullet rate to kill enemies faster. 9mm bullet ammo that is suitable at most midrange and supported attachments includes muzzles, sights, foregrips.
Miramar 2.0
The desert will be getting a bit of an overhaul, which is interesting. Now you will be able to F1 race with your buddies because the map will be laid with race tracks in abandoned areas. It will have some ramps and crunchy roads that will truly test your driving skills. A water town named Oasis is also adding to the mystery of the new map.
Another change will be a new city and Ruins area that gives Miramar a new look and feel. You remember the Mirado, yeah now it's our golden bird with the update. Yup, It's gonna be completely golden after the update. How cool is that! Painkillers and other consumables can be found in vending machines that will be dispensed through the town.
Jungle Mode
A new mode! Our Sanhok will be charged with hot air balloons. The information about the mode is little but you are going to be in hot air balloons able to maintain heat and with the opportunity to jump with parachutes as well. How the mode will be executed we don't know yet.
Safety Scramble Mode
Warning! For your safety, anyone that is faint-hearted can back off now. The game mode will be fast-paced with a high-intensity double zone. One will be a blue zone and another a purple zone inside the blue zone. A similar game-mode is already present in the PC PUBG as Bluehole mode.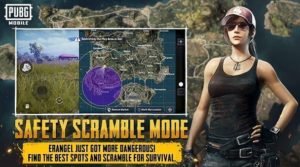 Heavy and Light Sandstorm
Again Miramar 2.0 won't disappoint. A low visibility sandstorm at all times would make for an interesting map. With certain areas will have heavier sandstorm that will hamper visibility even further, it will be fun to see final zones in these areas!
Other Changes
The option of auto-equipping scopes to your guns will be added. A new canted sight, ability to copy controls from FPP to TPP and new, improved bullet marks are some other changes we will see with 0.18.0 update.
There is yet to be any official news about the update but we will know what's what in a day or so.