It has been around three years since the release of Player Unknown's Battle Grounds. And there have been many changes and improvements in the gameplay styles and patterns.
Sound play is one of the most important aspects of the game. The various sound effects you hear are an extremely important factor in gameplay as they give you key information about your enemies and the environment.
Many players often report about the issues related to the footstep sounds. These issues include poor quality footstep sounds on some materials, unnatural sound changes over distances, large acoustic differences between shoes and barefoot.
Recently, PUBG developers have addressed these issues and stated that they have been putting in their best efforts to come up with a permanent solution. And they released the new improvements which are added to the game along with the 8.1 update. So, let us take a look at the improvements related to footstep sounds.
Enhanced quality and defined details
The previous footstep sounds lacked detailed differences for various ground materials. This resulted in dullness of the sound effects, especially over long distances.
The updated version will produce more detailed sound effects, even on the same materials. The developers have also added a variety of random variations to minimize the dull and unnatural sound effects.
Enhanced footstep quality over distance
Previously, the developers kept the resource unchanged and reduced the volume and bandwidth of high-frequency, with respect to variable distances. Due to this, the footstep sounds became muffled, lower quality, and more difficult to hear.
In the updated version, they divided the distances into short, mid and long range categories depending on the materials and characteristics movement. And they created a new sound design suitable to them. Thanks to these changes, the mid and long range footstep sounds will now be more audible.
Minimized auditory gap between going barefoot and wearing shoes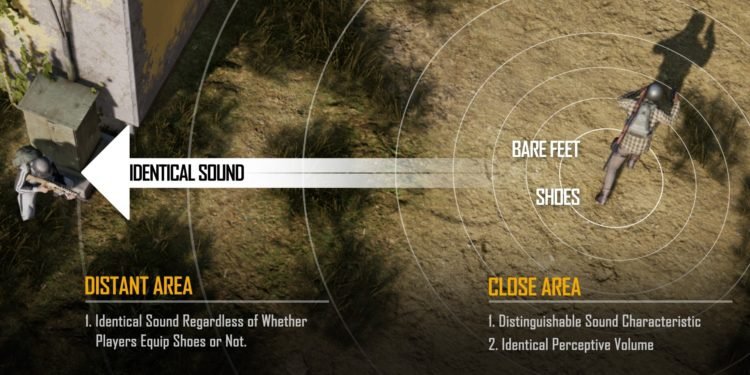 The huge sound gap between barefoot and wearing shoes footstep sounds in the existing sound rules is a major issue.
In the new update, the footstep sounds are generated based on the combination of what you are wearing and how far you are. During short distances, the new footstep sounds will vary depending on barefoot and shoes scenarios. Being barefoot no longer has an advantage, thanks to the volume of steps being equalized.
During mid and long range distances, the footstep sounds will be same for both barefoot and shoes scenarios.
These changes will keep the realism of the different sounds during short distances and will also make approaching enemies easier to hear.
The developers also stated that this is just a brief overview of the improvements they have been working on. They are also investigating other sound issues and will provide solutions further down the line. For more information, you can take a look at the official site by clicking here.