Note:  This post has been updated on January 30. Check out the updated content at the end of this post.
---
PUBG, one of the most popular battle royale games which have been developed by PUBG Corporation is currently facing an outage at many locations.
So, if you are trying to play PUBG and it is not working for you, fret not, as you are not alone. For many users, PUBG servers are not working on both Xbox and PS4. Have a look at a few players complaints which confirms the same.
https://twitter.com/kevinac2787/status/1207460806046162945
@PUBG PS4 SERVERS DOWN?

— Curtis Moon (@CurtDawgX) December 18, 2019
I was already annoyed with pubg when it came to sync issues between PS4/XBOX,now i have to deal with shitty ping!!84-96 every game..unreal

— MelisiousAF (@MeliBoo9) December 18, 2019
https://twitter.com/j_balthis/status/1207460900833255425
An outage tracking website, Down Detector also shows the report of outage in some locations. Have a look at Down Detector outage map & report down below.
PUBG outage time :
It is having issues since 16:30 pm PST.
So far there is no official statement from PUBG officials but we certainly hope the issue will be resolved soon.
Rest assured, we are keeping a close watch on the current outage & situation. Whenever any update will arrive regarding this issue, we will update the column.
---
Update –
Console Players: Live servers have entered emergency maintenance due to an unforeseen technical issue. Maintenance is expected to last 6 hours, ending on Dec 18, 10:30 pm PST / Dec 19, 7:30 am CET.
Update 5.3 will be available once the maintenance is complete.
Update –
Console Players: Maintenance is complete and Update 5.3 is now available on live servers!
With Update 5.3 comes Death Cam, improved blood effects, Weapon Mastery improvements, bug fixes, and more.
---
Update – December 22
PUBG has gone under maintenance for console players & it will take nearly 2.5 hrs. Have a look at the official statement down below.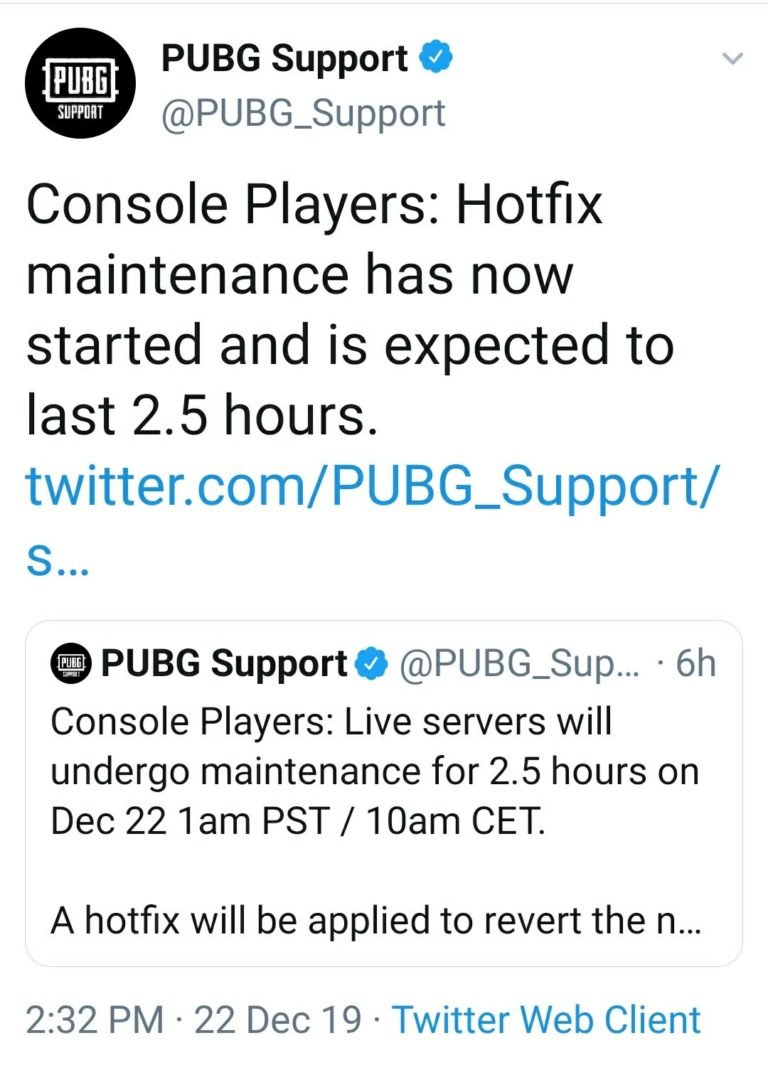 Update – Maintenance Completed ( December 22)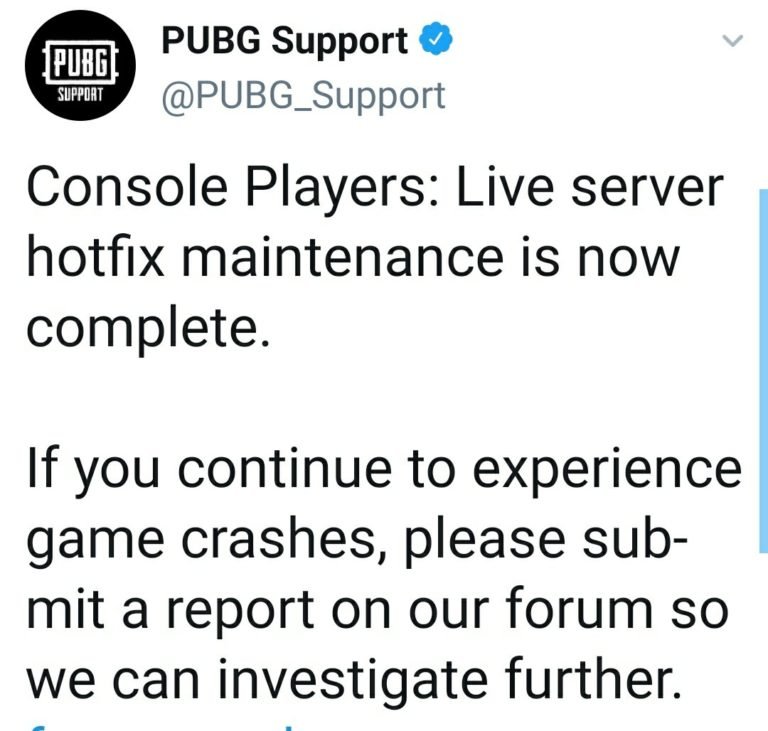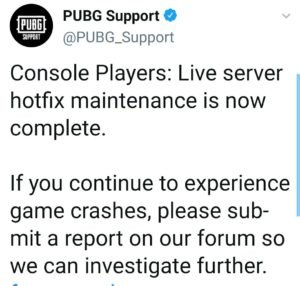 ---
Update – January 07
Live servers will undergo maintenance for 4 hours on Jan 7, 4:30 pm PST / Jan 8, 1:30 am CET / Jan 8, 9:30 am KST to perform general service stabilization for PC.
–
Server Maintenance is over now. Servers are live again.
---
Update – January 30
According to the official tweet by PUBG Support live servers will undergo maintenance for 3 hours on January 29, 10 PM PST / January 30, 7 AM CET to apply Update 6.1. The servers are currently offline for maintenance and will not be available for the next 3 hours. Update 6.1 will arrive across the console platforms.
If you want to know more about the new update 6.1, you can check out the link mentioned below. We have mentioned finer details and patch notes for the new update. Just visit the link and read more details.
---
---