NVIDIA, in their GeForce RTX 3000 series, have delivered a GPU for tomorrow's needs. One glimpse at the market and you know it is very much a profit generating machine too. Everyone's waiting to get their hands on these. Up stepped manufacturers like ASUS, GIGABYTE and MSI with their various Over-clocked and non-OC variants in the bandwagon. Numerous issues have made it challenging for the buyers to get the Ampere GPU of their choice. Online retailers have been clear victims to scalpers and bots forcing most manufacturers into restocking. But, attempts are being made to ensure that customers do not feel dejected. Proshop (Danish) published a list of cards that they received, along with a track of orders that came in.
Proshop provides update on GeForce RTX 3070, 3080 and 3090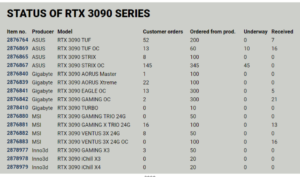 Coming from NVIDIA's second largest retailer, Proshop only behind Komplett, the numbers look reliable at first glance. However, many doubt the possibility of receiving these cards anytime soon. The availability also somewhat gets affected by the product itself. RTX 3080 and 3090 are built on a rather complex architecture whereas the RTX 3070 on a more common one. Not really an excuse, but it does however restrict the supply count to some extent. This can also be noticed in the numbers that Proshop have put across. Proshop is only delivering custom builts by MSI, GIGABYTE, ASUS and Inno3d. Unlike Overclockers UK Proshop chose not to disclose anything, even the queue number for the specific order placed. Looking at those figures posted by Proshop, many buyers feel it is only reasonable to accept that there cards will be delivered around Christmas time.