Pokémon UNITE may not have gotten off to the best start in terms of fan perception since its announcement at the Pokémon Presents event, but eventually, fans have left behind their bitter taste toward the game and are finally warming up to the idea of a spin-off Pokémon game for their mobile devices and the Nintendo Switch. The launch roster has already been revealed on the Pokémon UNITE website, and now, TiMi has confirmed that both Blastoise and Gardevoir will be added to the game after launch.
First up, let's take a look at the tweet announcing the arrival of the two Pokémon to Pokémon UNITE.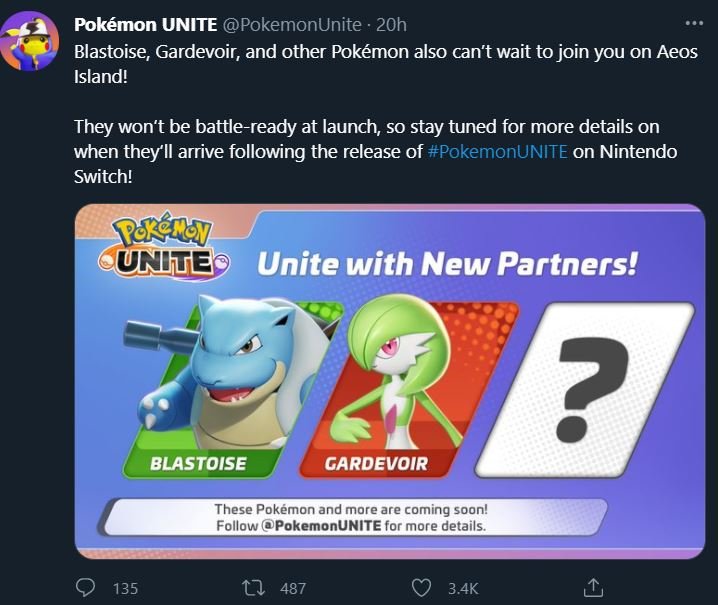 There's a bit of info apart from the release of these two Pokémon to the game. It was also revealed that these two Pokémon will not be a part of Pokémon UNITE from launch, but only sometime after the game is released on Switch sometime in July 2021. The game is slated for a September 2021 release on Android and iOS devices.
More importantly, the tweet also confirms that apart from Blastoise and Gardevoir, a third Pokémon will also be revealed and added into the game soon, along with these two. Fans online have already begun speculating which Pokémon this could be, and it seems to be the general consensus that one of Eevee's many evolutions could be on the cards here. We will have to wait for more official info to know for sure, though.
Seeing as the evolved versions of two of the three starter Pokémon, namely Charizard (Charmander) and Venusaur (Bulbasaur) were announced in the roster already for Pokémon UNITE, most fans were expecting the evolution of the third and final starter Pokémon, Blastoise (Squirtle) to also be added into the game, and their suspicions were proven right with this announcement.
One of the Ralts evolution, the Psychic and Fairy type, Gardevoir was also a surprise addition to the game, seeing as all of the other Pokémon in the game were more popular and from generations I and II. Either way, it will be fun to play around with a Psychic type in the game.
For lasting coverage on all Pokémon games, from Pokémon GO! to its spin off on Roblox, Loomian Legacy, stay with digistatement.