Earlier today, Niantic Support tweeted that due to maintenance being done on the raids servers, in-progress raids could misbehave. If you're thinking, well, why didn't they include an in-game warning? The answer would just be that Niantic has never been very good at notifying its users about maintenance breaks. This image is made worse by the account they used to let us know, it is hardly ever active.
As you can see from the tweet stats, this account hardly has any reach, and Niantic really should be doing better.
Is the issue fixed yet?
Thankfully, yes, it is. Soon after their original tweet and backlash from the Pokémon GO community that it affected, Niantic Support confirmed maintenance was complete. Shorter than most maintenance breaks, this one only lasted about one and a half hours. The important part is, all you trainers can once again engage in one of the most challenging and fun elements of Pokémon GO! There's nothing quite like the satisfaction of taking down a raid boss alongside your best mates.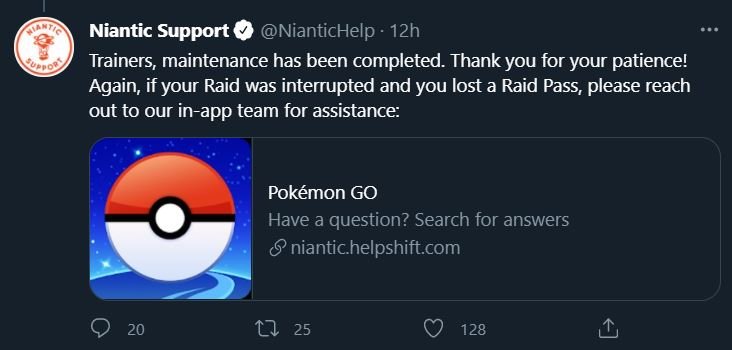 Lost a raid pass because of this? Here's what to do.
As you saw from the tweets, your best bet is to reach out to Niantic's in-app help team, and you can find out how to get there with the link in this article. Have screenshots at the ready, since this sort of compensation often calls for these. There isn't too many instances of trainers being given back resources they lost due to no fault of their own. However, here's hoping Niantic has a change of heart and gives us trainers our precious passes back with a minimum of fuss. Happy training!