There are many Pokemon games out there that will fulfill your wish of becoming a Pokemon master, but none can match the open-world experience featured in Pokemon Scarlet and Violet. Not only do you get to have fun going on awesome adventures but also you get to do other things. Things like tagging your friends along and also catching many wild pokemon. These titles are receiving a good amount of praise from fans around the world. Owing to this fact, we will take a look at something in the game which will surely excite you. What is it that we are talking about? Well, today in our article, we will take a look at how to find and catch the pokemon Dratini in Pokemon Scarlet & Violet.
Now, for those who may not know what kind of pokemon Dratini is, let us give you some insights on it so that you know how useful it can be. Dratini, for starters, is a Dragon-type Pokemon that looks partly like a snake. It has a head of a cute dragon of sorts with a white spot in the middle. Its gender includes both male and female and one of its abilities includes shedding its skin. The Pokemon is found near water bodies that have fast-flowing water and this is why waterfalls are its favorite spots to live. This is just a general place where these pokemon are found and now, we will tell you exactly where you can find them in the new Pokemon games.
Pokemon Scarlet & Violet (SV): Where To Find, Get & Catch Dratini
You will be able to see the location of where you can find ample Dratinis. The area known as Casseroya Lake is the one you should look for to get a hold of these pokemon. Also do take note that the Dratini is usually found with level 50+ in the game, so you would not want to go there with low-level pokemon in your party. Now, once you have reached the location on the map shown above, your job is only to catch them and it is not that hard.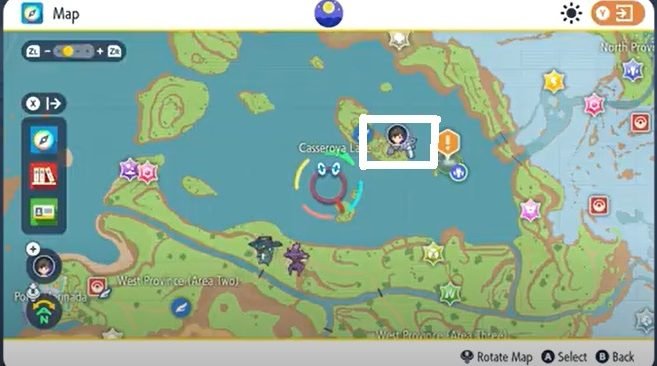 To catch a Dratini, all you have to do is weaken the creature, put it to sleep using an item, or move and pull out your Ultra Ball (purple) and throw it on the Pokemon to catch it. Doing this will maximize the chance of capturing your desired Pokemon which is the Dratini. Leveling up your Dratini will eventually evolve into Dragonite. So, it is worth your time. With this said, you can now find as well as catch this pokemon in the game. However, Dratini also has weaknesses which include fairy-type, ice-type, and dragon-type Pokemon. With this, we hope you liked the article. Keep following Digistatement for more.