Coaches, if you completed all the lines of the Timed Research quests, then you will automatically receive a special Throwback Challenge Champion 2020 quest, and if you missed at least one of them, you can buy a ticket and get access to a special Throwback Challenge Celebration 2020.
If you have access to the Challenge Champion quest, you can still buy a ticket for the Challenge Celebration. In this case, you will have access to both quest lines, Challenge Champion and Challenge Celebration.
Throwback Challenge Champion and Celebration 2020
Throwback Challenge Champion Tasks and Rewards 1/5
Make 15 Great Throws – Galarian Meowth encounter
Catch 15 Pokemon – x1 Incense
Transfer 15 Pokemon – x30 Ultra Ultra Ball
Rewards – Gothita encounter, 500 Stardust and 500 XP
Throwback Challenge Champion Tasks and Rewards 2/5
Evolve 5 Pokemon – x5 Rare Candy
Hatch 15 Eggs – Oshawott encounter
Win 15 Raids – x10 Max Revives
Rewards – Pokemon encounter, x500 Stardust and 500 XP
Throwback Challenge Champion Tasks and Rewards 3/5
Make an Excellent Throw
Battle another Trainer 15 Times
Powerup Pokemon 15 Times
Throwback Challenge Champion Tasks and Rewards 4/5
Give your buddy 15 treats
Catch a Dragon Type pokemon
Take 15 Snapshots
Throwback Challenge Champion Tasks and Rewards 5/5
Passing these quests, you will receive the following:
Meetings with Galarian Meowth and Galarian Stunfisk. This will be their first appearance in Pokémon GO:
Research assignments that lead to Pokémon originally discovered in the Unova region – Snivy, Tepig, Oshawott, Blitzle, Audino, Darumaka, Gothita and Genesect:
A chance to earn exciting rewards, including Professor Willow's points as an exclusive avatar item.
The following changes will be applied in the version of the Challenge Celebration quest:
Each time the reward is a meeting with Pokemon, you get 10 Pokemon sweets instead.
Instead of Professor Willow's glasses, stardust will be given out.
Ticket for Challenge Celebration 2020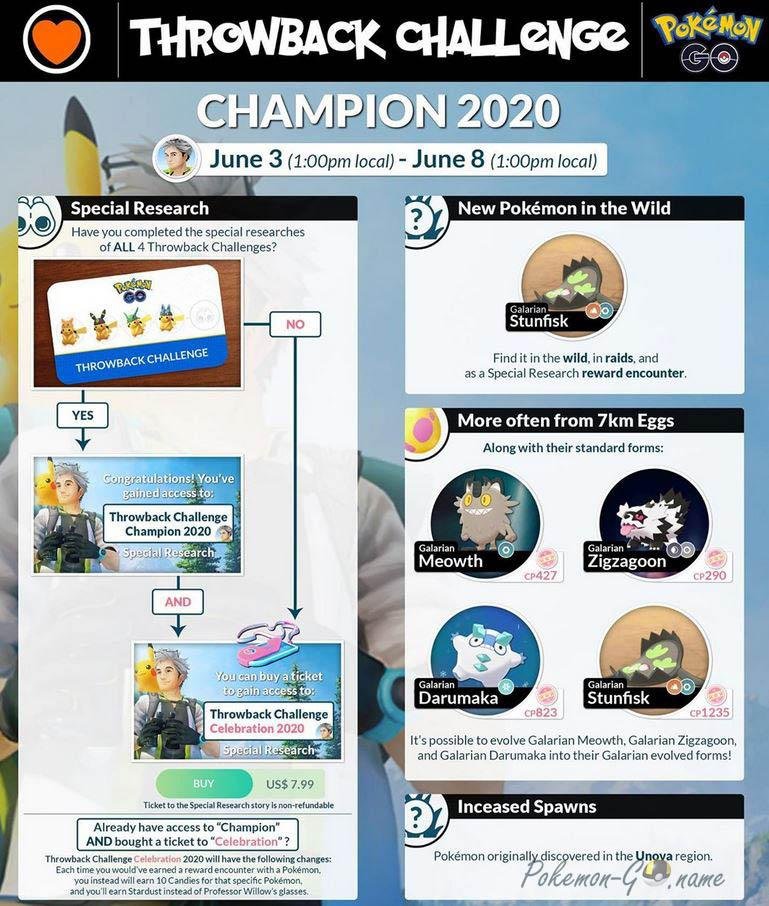 To access this special quest, you need to open the Pokémon GO app during the event:
Beginning – Wednesday, June 3, 2020, at 13:00 in your local time zone;
Ending Monday, June 8, 2020, at 13:00 in your local time zone.
Once you have received Special Research, you can do it anytime.
A ticket costs $ 7.99 and can be purchased at the store. It cannot be bought with PokéCoins . The ticket for this special study is non-refundable.
How to buy a ticket:
Open the game Pokémon GO.
Open the menu through Poké Ball, and then click Shop.
Click on the Learn More button in the store.
Click the Buy button.
A pop-up will then appear indicating that a ticket for the Throwback Challenge Celebration 2020 special study has been received.
After you click OK, you can find the ticket in your bag.
We do know an eventual encounter with the Mythical Pokemon Genesect does await, however. This will come after completing all five stages.