Pokemon Go players can rejoice as Niantic has revealed the details regarding the upcoming Community Day. Pokemon Go May Community Day will feature Seedot Pokemon. Niantic has also revealed the schedule for the upcoming Community Day.
Seedot Community Day will take place on May 24, 2020. The timings for the event are the following: 11 am to 5 pm. The upcoming Community Day also features a variety of bonuses for players.
During the Community Day hours, players will get 3 x Catch XP for catching Pokemon. Also, Incense will last for 3 hours which can be used to attract Pokemon. Every Seedot evolved during the Community Day hours & two hours after it, will learn an exclusive move Bullet Seed ( Shiftry Only ). Have a look at the simplified image down below.
Shiny Family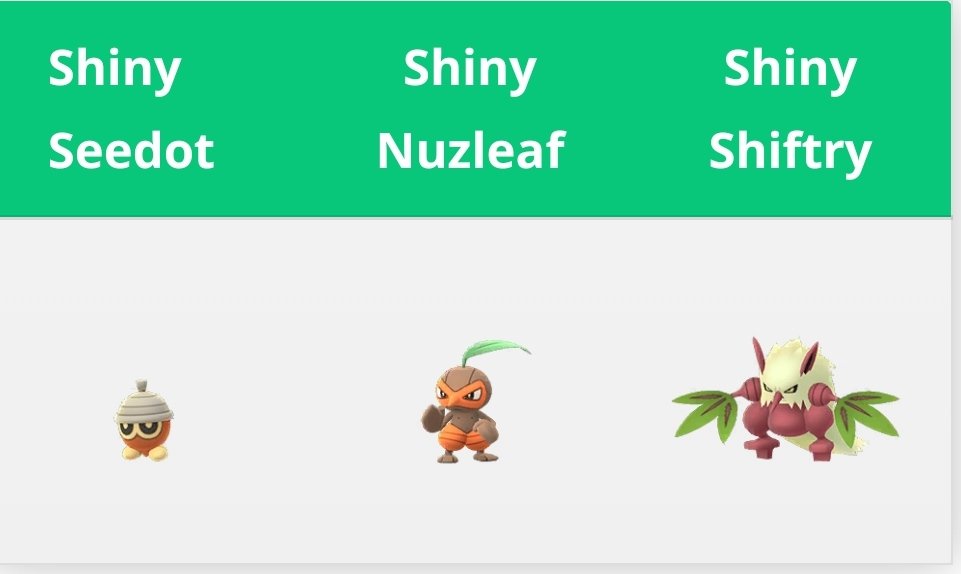 Apart from this, a new 1 Pokecoin Bundle has gone live in the game. The updated Pokecoin bundle features the following list of items : Remote Raid Pass × 1, Poké Balls × 20, Great Balls × 10, and Ultra Balls × 5.
This 1 Pokecoin bundle is available for players until May 18, 2020, at 1 pm PDT. Well, Niantic recently made some changes in the game such that players can enjoy it from home due to this Corona outbreak. The list of changes allows players to obtain required items in a much easy way. You can check them down below.
Buddies can now bring you Gifts from PokéStops! Send Gifts to friends, and receive Gifts in return that you can open to receive items like Poké Balls, Berries, and more.
Gifts are currently rewarding more Poké Balls.
You can get a daily bonus Field Research task without having to spin a PokéStop, which you can complete to earn items.
The distance from which you can spin a PokéStop has been temporarily doubled.