PayPal offers an easy and quick way to send and request money online. You can transfer money to family, friends, online shops, and various auction sites. For sending money, all you would need is the email address of the recipient. By registering the credit card or bank account with your PayPal account, you will be able to send payments using the option of Send and Request Money. The money gets credited to the recipient's account. It can then be transferred to a bank account or also used to make a payment.
When you shop online and see the PayPal logo on a website, that means you can pay using PayPal. You just have to select PayPal at checkout. You will be asked to log in to your account and confirm the payment. Your financial information will never be seen by sellers or online shops. If you wish to open a PayPal account, let me tell you that it is very easy and you don't have to pay anything. Extra fees and charges are dependent on the type of payment you make.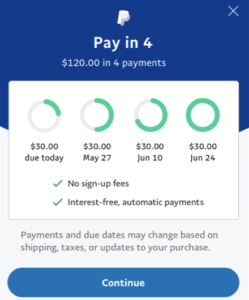 But recently users have come up with a complaint related to the website. They said that their application for the Pay in 4 service was denied. The facility of Pay in 4 is available for US customers. Availability is entirely dependent on the state of residence. You must be at least 18 years of age if you wish to apply for it. A PayPal account in good standing is required for it. Users said that their application has been denied multiple times by PayPal.
Users said that they have maintained their PayPal accounts very well and still the company is not accepting their applications. Some have also said that when they initially checked everything, they were eligible for the service. But the next day, when they checked again, PayPal said that they are not eligible for the Pay in 4 service.
PayPal has not yet mentioned anything on how to sort out this issue. But one thing that you can do at first is ensuring that you are eligible for the service according to what has been mentioned by the website. Also, you must ensure that you have well-maintained your PayPal account. If none of these work for you, contact PayPal customer care.