The cutest new pet is all set to be adopted. Mr. Bubblegum Penguin is here in Overlook Bay. Read the full article to know more.
Overlook Bay is a popular game on Roblox. It is also referred to as the next-generation roleplay game. The gameplay of this game revolves around Adopting amazing pets, playing fun minigames, creating a customized home, etc. This game has a reflection of another Roblox popular, Adopt Me. But, this game is different from it. The pets in this game are categorized into seven categories based on their rarity. They are Common, Uncommon, Rare, Ultra-Rare, Legendary, Godly, and Mythic. The pets in this game are connected with collecting gems by completing several jobs. When the player is successful in collecting a sufficient amount of gems, he can directly buy a Pet Pod from the Pet Store to acquire pets.
In this article, we are going to talk about the latest upcoming pet, Mr. Bubblegum Penguin in this next-generation roleplay game. So, here is everything you need to know.
Bubblegum Penguin
Pets are the cutest thing in the whole Roblox game, Overlook Bay. The game has witnessed numerous pets in it but, there is a tough competition coming in cuteness. Mr. Bubblegum Penguin is arriving at Overlook Bay on Friday. This new creature is having the cutest appearance. Wonder Works Studio has recently tweeted that the all-new pet is arriving at Overlook Bay. You can have a glimpse of the tweet from the following image.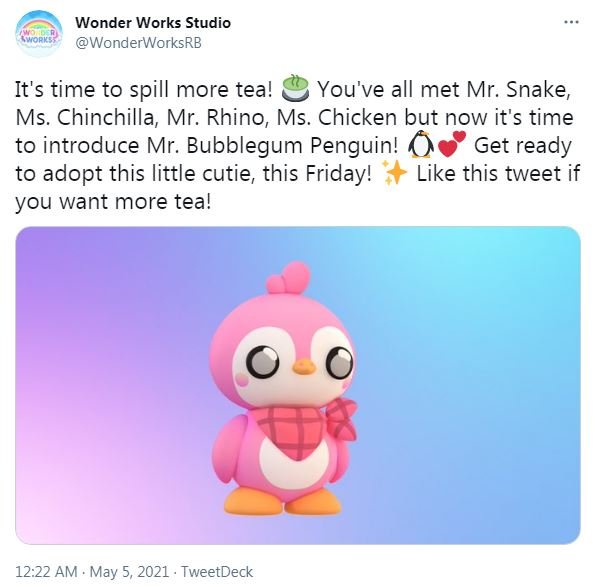 There is not any information available about the rarity of this upcoming pet. So, we cannot say anything. But, there is no harm in predicting. So, it would be amazing if the players can procure this pet by opening Pet Pods or purchasing it from the pet store. The previous penguin was listed in the "Ultra-Rare" category. So, we can also expect Mr. Bubblegum Penguin to be at least an ultra-common pet.