Released in 2019, Outward has been the talk of the town for a while now. Available to play on PS4, Xbox One among other platforms, fantasy role-playing game has a new DLC update in the works for a while. Fans can't wait to see what the developers have in store for them. Here's what we know about Outward DLC release date so far:
Outward
Outward is an open-world adventure role-playing game that follows our MC around a fantasy world, where we're left to survive. The game incorporates survival elements, magic properties along combat mechanisms. The MC is also depicted to be a commoner rather than a hero, and we see how our actions have consequences. This was regarded as a welcome and fresh change of MCs in pop culture where we see heroes leaving a trail of collateral damage(ahem Avengers ahem).
The game screen shows the player's vital information, including parameters like their health and hunger, and weapon condition. The survival elements allow players to craft objects from raw materials, such as lanterns and torches. The player can use Weapons and Magic to combat enemies they encounter.
To get a better idea of other features of the game, we advise visiting the game's fan wiki:
The game is available to play in multiplayer form, both online and offline. Offline multiplayer brings back one of the most famous modes of multiplayer gaming, the split-screen.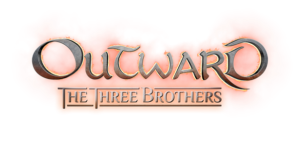 Outward DLC Release Date

The Canada-based studio announced the release of new DLC content for Outward. Outward DLC release date is said to be on 15 October 2020 for PC, while PS4 and Xbox One will receive the game in 2021. The developers mentioned in a press release their surprise for the warm welcome their game received, promising more content for the same. The new DLC has been named The Three Brothers and will include various different weapons, quests, etc. Along with these new updates, the DLC will also have a new area to explore, named Caldera.
Nine Dots Studio released a tweet that contained a developers diary that has more information about the much-awaited DLC
The wait is now over! We are happy to share with you the Dev Diary for The Three Brothers, Outward's second DLC. Get a first look on the new map, equipment, and enemies as well as a glimpse of the story that will take place within the Caldera.https://t.co/c0LY9LxliR

— Nine Dots Studio (@NineDotsStudio) December 1, 2020