Square Enix is credited as one of the best developers to work in the gaming community. With titles like Deus Ex and the Final Fantasy series, it is safe to say that they go all out in their effort. Today we are going to take a look at another such game, Outriders. In this article, we will learn how to skip intro video or cutscene in Outriders. Let's dive right in:
Outriders
Outriders is a cooperative action third-person role-playing game. Quite a mouthful, isn't it? Well the game not only has a long official description, but it comes with a great many features. Players can make their own customizable characters, choosing from the set classes available. Along with this, the game has a long interesting storyline.
The latest news in the world of Outriders indicates the features developers have been working on. In a Reddit post about the same, the team was seen addressing some issues along with releasing the details of the development. Mainly, the developers are looking into balancing the classes and also testing their latest update patch for stability. We hope to see the update soon.
How to skip intro video or cutscene in Outriders?
Cutscenes can take away a lot of time from the actual gameplay, and it is particularly infuriating when they aren't skippable. The same is true for Outriders. Thankfully, Youtuber TroubleChute has provided us with a detailed guide into solving the issue.
Here are the steps you need to follow in order to skip intro video or cutscene in Outriders: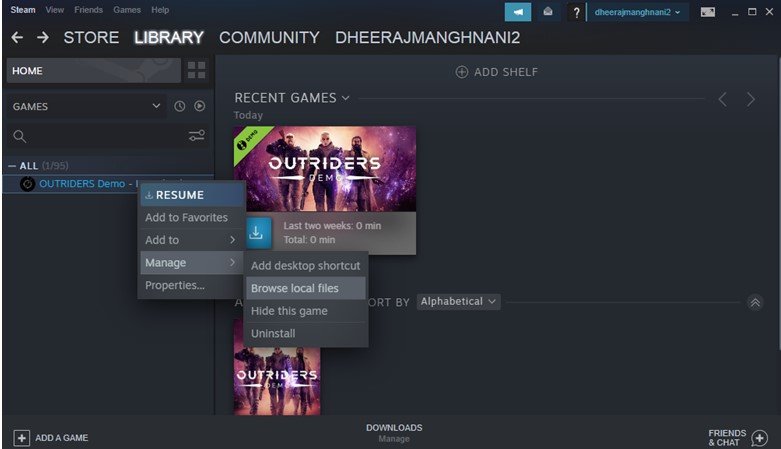 Open up your Steam app and head to the Outriders game page.
Here, locate the game name in the sidebar, and right-click on it
Click on Manage, then Click on Browse local files
This will open up the local files folder on your PC
Here, you will need to open the following folders:
Here, locate the file named splash_screens1.umovies
All you need to do now is rename this particular file to anything but the original name.
Play the game. Your game should now start without an intro cutscene
Read more about Outriders here: