People Can Fly and Square Enix created Outriders, which was released on the 1st of April 2021. The game was available for PlayStation 4 and the PlayStation 5, the Xbox One, Xbox Series X and S, and Microsoft Windows. This is a third-person shooter game, mixed with elements from role-playing. Players create their custom characters in the beginning, choosing from four classes. Each class possess a unique ability, which can be utilized by gamers. The four classes are:
Trickster: Ability to manipulate time
Pyromancer: Ability to manipulate fire
Devastator: Ability to unleash seismic attacks
Technomancer: Ability to use turrets and other devices.
The Sony PlayStation become a household sensation, since its arrival on the 15th of November 2013. Sony's entertaining console came with an AMD next-generation Radeon-based graphics engine. It is a 4K compatible console and can read Blu-Ray discs. The CPU consists of 8 Core Threads and 8GB GDDR5 RAM.  The console DualShock 4 took the console to another level. It comes with a headset jack, share button, an integrated touchpad, and a LED player identifier. The PlayStation 4 can provide an unparalleled experience with games like Fortnite, FIFA, Modern Warfare, Outriders.
While playing such games, many PS4 gamers have reported about error CE-34878-0. Outriders players have complained about the issue by PS4. What is this error? How can you fix this? Read this blog, as we talk about possible fixes for this common error.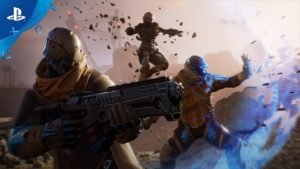 Error CE-34878-0 Outriders: How To Fix It In 2021?
Error CE-34878-0 is a common error that can take place when the current game you are playing on the PlayStation 4 has crashed. It is caused by the PS4 corrupted data, games/applications crash, or perhaps system software issues. Here are some ways you can fix this error, to have a seamless experience with Outrides
Solution 1: Restart PS4 Console and Controller
If the error CE-34878-0 stems from a hardware failure, go for troubleshooting by restarting the PS4 console and DualShock 4 controller.
1. Turn off your PS4 console and controller.
2. Reboot your PS4 console and then the controller. After this, open the game that has the problem and check whether it works normally or not.
Solution 2: Install the Latest System Software and PS4 Game Updates
Unkown bugs within the game can also cause CE-34878-0. A system update and game software update can also fix the issue:
To install the latest game updates:
1. Go to the PlayStation home screen.
2. Select the game that needs an update. In this case, Outriders. Press the "Options" button on your controller and select "Check for Update" to download and install the most recent update of the game.
3. Restart your PS4 after the procedure ends. Check if the error has been resolved.
Solution 3: Re-Installing Original Hard Drive
A hard drive upgrade can cause your PS4 error CE-34878-0. Therefore, if you have ever replaced the system hard disk, re-install the original HDD back to check the source of the issue. Prepare an external storage device and connect it to your PS4.
Head to "Settings"
Select "System
Choose "Back Up and Restore" on the PS4 to wrap up this process.
Solution 4: Initialize PS4 after Backing up Your Saved Data
If the aforementioned solutions are not effective for solving error CE-34878-0, initialize your PS4 to fix it.
Go to PS4 "Settings"
Go to "Initialization"
Begin with "Initialize PS4"
Select "Full".
Follow the on-screen instruction to finish the initialization.
Restore all the backup data.
There are some solutions you can look out for to solve Error CE-34878-0.