The Chinese consumer electronics and mobile communications company, Oppo is not productive when it comes to rolling out timely Android OS updates. In fact, the company is still having problem in launching Android 10 updates to some of its devices in Q2 2020 and we can see that the company has already started rolling out Android 11 based ColorOS 11 and the oppo users are not happy about it.
The company launched its own Custom ColorOS v11 in September this year. Oppo Find X2 series initially received the beta upgrade and later the company rolled out the beta version for Oppo F17 pro too starting September 30. The new Android 11 based ColorOS 11 comes with Customizable Dark mode, Always-on-Display (AOD), Customizable wallpapers, Gamer mode, Three-finger translation, and many other customizations. It is no doubt one of the most efficient, highly-customizable and nicely-designed Android-based OS.
Looking at the various posts on the social media, it seems like the users of Oppo F17 pro are having really bad experience downloading and installing the beta version. A bug has been reported and many users have posted the screenshots of the problem. Have a look at one of them.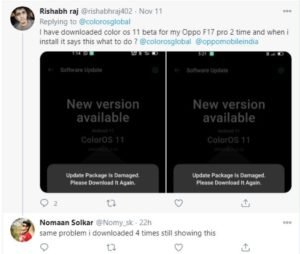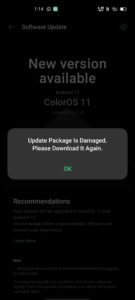 The download of the new OS worked perfectly fine but users are having issue regarding the installation part. Everytime they try to install the update, a message pops up saying "Update Package is Damaged. Please Download It Again". Users have tried downloading the package multiple times, but it seems their device is working perfectly fine and the issue is in the new OS. Users are confused about how to handle the issue.
Oppo recently added the "Low Battery Messaging" feature in the ColorOS 11 only for the Indian users and that could be one of the reasons. But there is no any official wording regarding the bug from the company's side. We expect the bug gets noticed soon and they fix the bug as soon as possible.