Google released the stable Android 11 in September this year. Since then every smartphone manufacturing company is working on its own custom mobile OS to provide this update to its users faster than others, and OnePlus is no exception. OnePlus has completed working on OxygenOS 11 which is based on Android 11. Just two days ago, OnePlus started rolling out Android 11 for its latest flagship devices – Oneplus 8 and 8 Pro. Now, OnePlus 7 users are concerned regarding when they will get the Android 11 update.
OnePlus in a community post said that OnePlus 7T Pro, OnePlus 7T, OnePlus 7Pro, OnePlus 7, OnePlus 6T, OnePlus 6, and OnePlus Nord will also get this update.
And now, another news is coming that, this year the Android 11 update will only be available to the OnePlus 8 series, and the OnePlus 7 series will receive this update in 2021.
This information was shared by an OnePlus forum moderator, FunkWizard. A user obakesan on the OnePlus forum commented that "So is this ever landing for older devices like 7T Pro or as usual is OnePlus just letting them die a slow death in favor for the ever-new?" To that, the forum moderator FunkWizard replied "Only for 8 Series for now, 7 Series in 2021."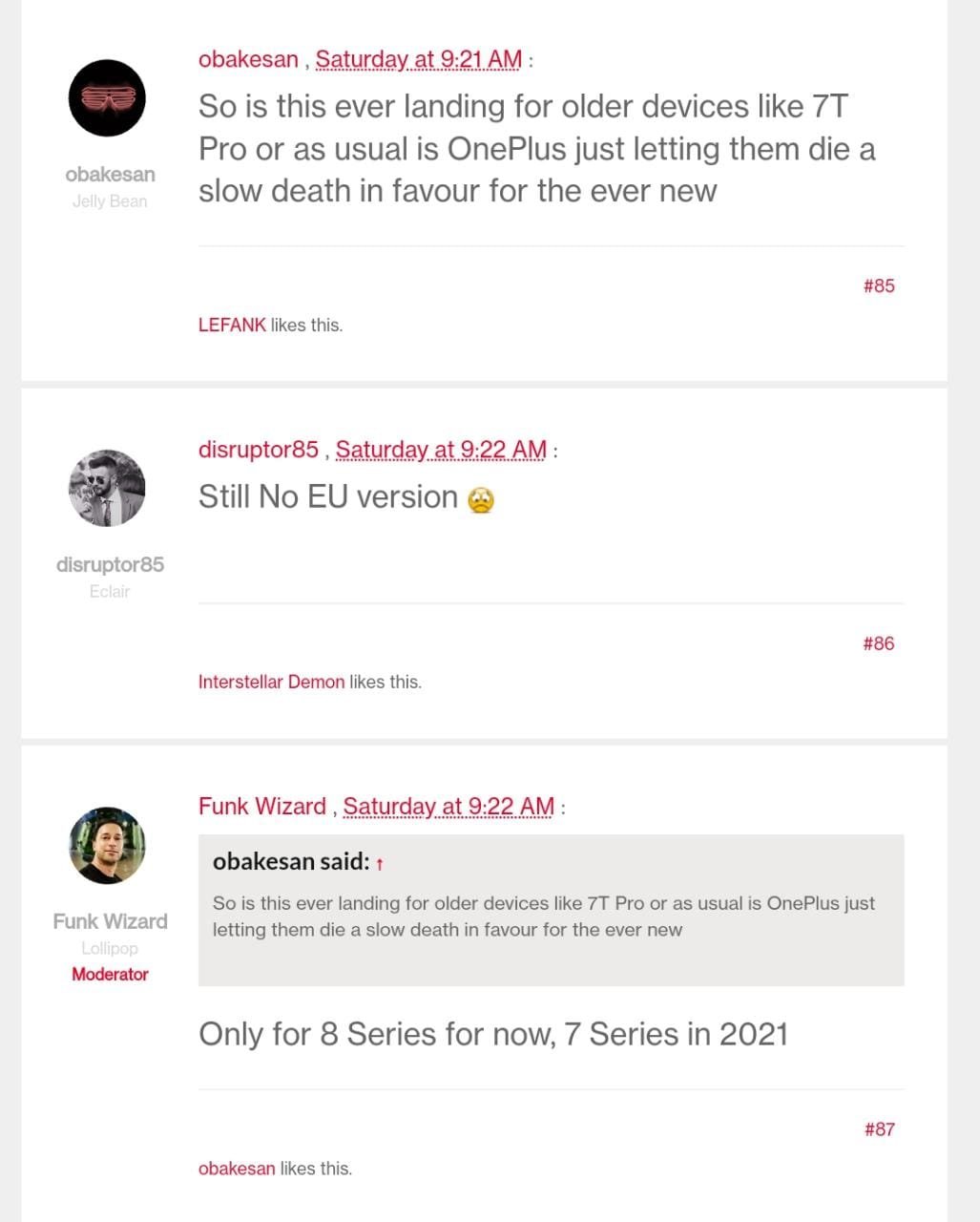 OnePlus 7 brought a 6.4″ HDR10 Optic AMOLED touchscreen display. This device was powered by a Snapdragon 855 processor. The OnePlus 7 brought a decent 4000 mAh battery, with 20W fast charging support. This phone came with Android 9 out of the box and had a dual-camera setup of a 48MP wide + 5MP depth-sensing camera. The Oneplus 7 was announced by OnePlus on 14th May 2019 and is eligible for the OxygenOS 11 update which is based on Android 11.
Android 11 gives a new refined interaction with UI, screenshots scrolling, and combining, better screen recording with internal audio capture and better one-handed mode are some other features that Android users are expecting. In addition to it, we get NFC file transfer, Chat bubble, Dark Mode, Battery and storage enhancements, and an Enhanced Do Not Disturb Mode.
We are constantly tracking news related to OxygenOS 11 & will update you with more information whenever it arrives, so stay tuned! Follow our website to get technology updates as soon as we publish them.
Source:- OnePlus Forum