In 2020, OnePlus has reached a whole new level. We saw many new products by OnePlus in different categories and different price segments. Just a few days ago, OnePlus has released the OnePlus 8T, which is a successor of the OnePlus 8. OnePlus 8T comes with an amazing display, super-fast charging, speedy and smooth OxygenOS 11 which is based on Android 11. This article is about a newly revealed OnePlus 8T feature, Google Dialer. Yes! OnePlus 8T is coming with a Google Dialer instead of an OnePlus dialer.
This information comes from an OnePlus question thread, "Does OnePlus 8T has Google's Dialer app?" and a staff member David Y answered the thread as, "yes. it comes with the google comms suite."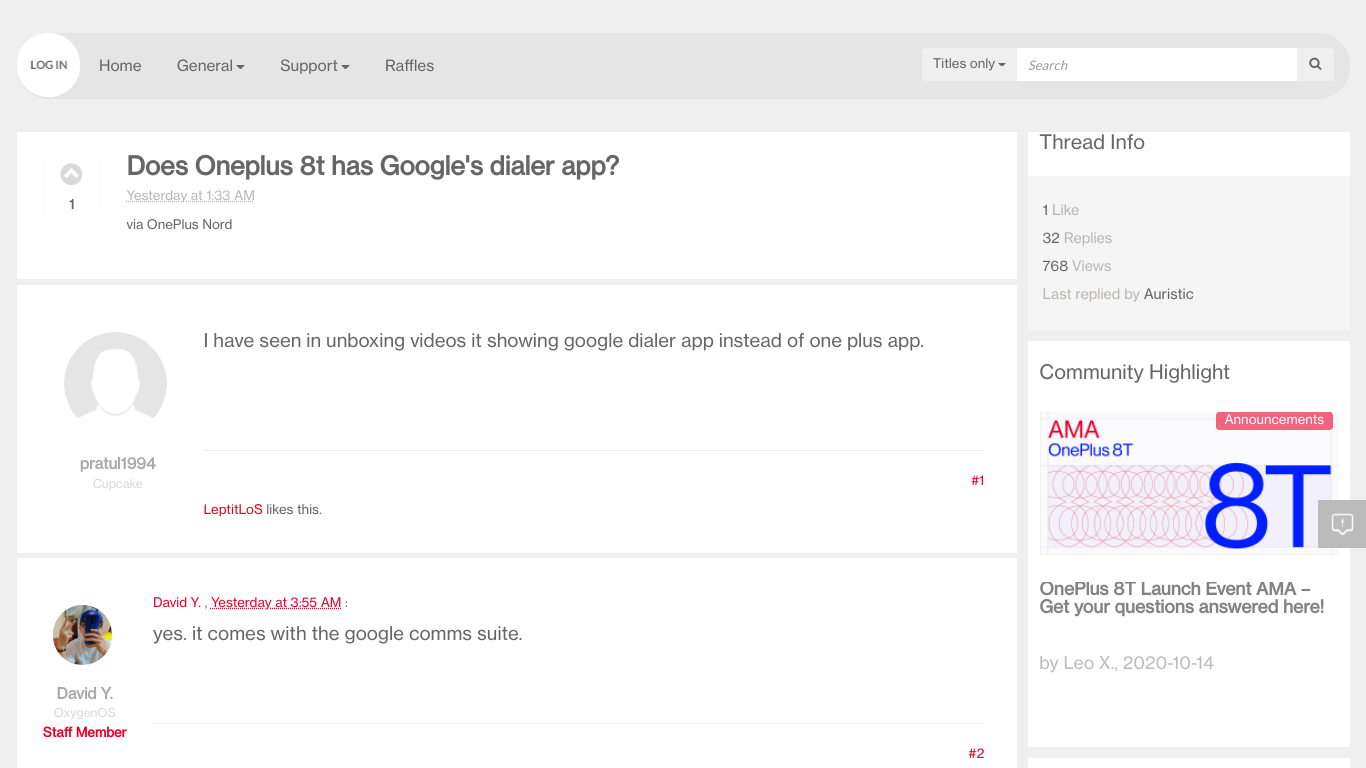 The issue with Google Dialer is that once you put a call on recording it shows the users that the recording has started. Other than that, the Google Dialer is a very good app. You can check its features below.
Google Dialer App Features:
You might think why is Google Dialer App better than Stock dialer, here are a few features of Google Dialer which you might like and want to use.
Powerful Spam Protection:
Google Dialer warns about suspicious callers and helps you avoid unwanted calls from spammers, telemarketers, and scammers. It also blocks the numbers to prevent them from calling you again.
Know Who's Calling You:
Google's official feature with extensive caller ID coverage lets you know the business that's calling you so that you can answer with confidence.
Screen Unknown Callers:
In the new dialer, a new feature called "Call Screen" answers unknown callers, filters out detected spammers without interrupting you, and helps you learn more about callers that you don't recognize before you pick up
Visual Voicemail:
Now, you can check your messages without having to call your voicemail and also view and play them in any order, read transcriptions, and delete or save them directly from the app.
Simple Design:
The simple and lightweight design of this app keeps your favorite people just a tap away. In addition to that, it allows you to switch to dark mode to save battery and reduce eye strain at night.
We post content related to Technology and exciting updates every day, so follow Digistatement to get a notification as soon as we post a new update.
Source:- OnePlus Thread