After two weeks, One Piece 959 raw scans spoilers are out. According to the leaks, flashback in chapter 959 shows the events before the Tokage port incident. In this post, we will discuss One Piece 960 spoilers based on the events of chapter 959. So, if you don't like theories or leaks, you can avoid reading this post.
One Piece 959 raw scans spoilers summary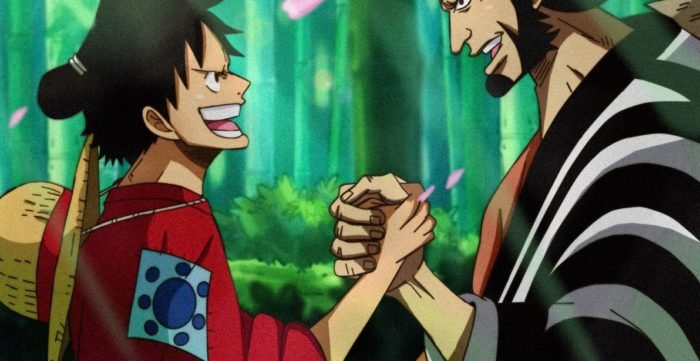 Straw Hats and Alliance preparation for the surprise attack
Among the leaked One Piece 959 spoiler images, images from the flashback show Straw Hats wearing edo armours given by Hitetsu. Franky orders the men to prepare the boats for boarding to the promising port, and Usopp says to meet at the promising port with the Sunny. It is not known, but somehow Robin got intel that currently, weather at Onigashima is winter.
Also, Carrot and Minks along with Nami, discuss the date of the full moon so that they can make use of their Sulong form during the war.
Enemies'counterattack
Another flashback from the day of preparation shows Holdem investigating the food solen from the town. O-Tsuru realises that the alliance stole the food for the army of 4000 men. To divert Holdem from reaching a conclusion, villagers took the blame upon themselves. In the capital, Orochi confirms that he has all the information on the 4000 people and the plan against the Beast Pirates. The Beast Pirates begin to counter the plan by bombing the Sunny's hiding post along with all major linking bridges and ships.
At present day, after witnessing the utter failure of their plan, Nine Saccabards decided to carry out their plan.
One Piece 960 spoilers-Oden's flashback from 39 years ago
The leaked image from the last page of chapter 959 shows Silhouette of Kozuki Oden from 39 years ago, which hints that the next chapter will be the flashback of the journey of Oden. The leaked image also hints that One Piece chapter 960 will finally unveil the involvement of Oden with the closing of the border of Wano to the outer world.
We already know that Oden was with Gold. D Roger on a trip to Raftel where he promised him that he would open Wano once again to the world. So, there is also a possibility that Gold. D Roger will be featured in One Piece 960.
Status of Alliance in One Piece chapter 960
Since it is not confirmed whether the straw hats and alliance were present near the ships at the time of the bombing, we can't assume anything. As most of the part of chapter 960 will explore Oden's past, we might get a hint about their status at the end.
One Piece chapter 959 is officially releasing on October 21st. If you have more thoughts on chapter 960, you can share with us.