For a long time now, rumours have been going around regarding Nvidia's Geforce RTX 3000 series of graphic cards. Recent leaks have been sighted on Reddit claiming to provide information about Nvidia Geforce RTX 3080.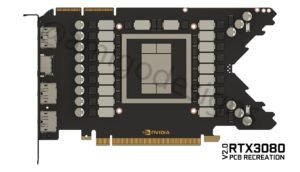 Nvidia hasn't verified any of the leaks or images mentioned below. That being said, it does provides an interesting look at what could be expected in the future.
RTX 3080 seems to be sporting an open air cooling system rather than the blower type design of the past. The Ampere heatsink appears to have two main stacks of aluminium fin arrays complemented by trapezoid shaped stacks. The cooling labyrinth has a cooler with a huge block with 4 thick heat pipes at the very least. The primary stack uses these pipes to connect with the secondary stack.
In turn, the secondary heatsink seems to be physically attached to the rest of the card. This means that it cannot be removed or modified by the user. The last graphic card model by Nvidia which had the heating pipe design was RTX 2060. Before that it was GTX 480.
RTX 3080 with its uniquely shaped heatsink also seems to have dual fans on the reverse side of the card. It is visible in these images leaked on Reddit. Click here to visit the original thread.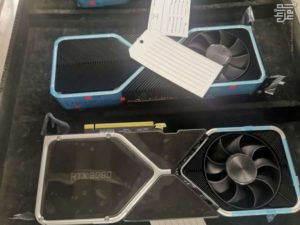 In more traditional designs, the intake fan is at the back and the outtake fan expels the air out the top. The opposite seems to be the case with RTX 3080 as the top fan seems to be the intake whereas the hindsight fan is designated for outtake. This should increase the slow regardless of how you install the card in your system.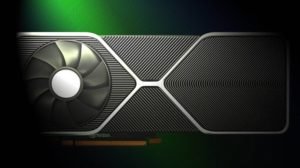 Through some speculations, the release date for Nvidia Geforce RTX 3080 appears to be somewhere around August 2020. Though as mentioned earlier, none of the data has been verified by any official sources.