Nokia had the worst grade for managing background tasks in the past but the situation was improved with the Android 9 update for Nokia devices. The apps responsible for the handling of background processes and other system tasks on Nokia smartphones come in a com.evenwell package.
However, "evenwell" apps were (co-)developed by HMD's manufacturing partner FIH Mobile (which is chinese company). But last year when HMD global started to operate on a multi-ODM strategy, FIH Mobile was no longer their sole manufacturer. Last year, HMD global promised to completely replace "evenwell" app with in-house solutions and said "if you see the solution there, it does not do anything"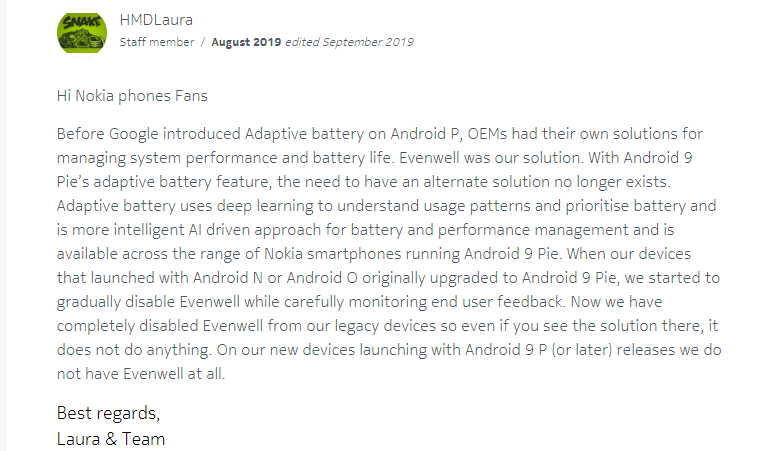 Well, months have been passed since then and now most of the major devices of Nokia have got the Android 10 update but "evenwell" apps are still present on the devices. Users are angry and complaining about the evenwell apps :
Nokia said they will remove all evenwell apps in Androis 10 but that didn't happened. from Nokia
Well, if you ask me, outsourcing stuff is quite normal these days in the industry's and what matters the most is the user's experience with the final product with both the hardware and software. That said, We will be glad to see HMD global developing its own software to manage background processes and tasks rather than depending on someone else.
If you want to manually remove these "evenwell" apps on your Nokia devices then you can follow a workaround provided by a Reddit user. Check it out below: