ZTE is primarily known for its works in the telecom industry. But lately, ZTE has been focussing a lot on their smartphone line-up too. And since the world was introduced to 5G, ZTE has been contributing a lot in educating and working on bringing the best out of 5G. ZTE officials have been doing the best to answer all about 5G technology, power and energy efficiency.
Now back to the smartphone line-up, ZTE is all set to release a brand-new smartphone. It seems like this upcoming device from ZTE will first be available in China and the U.S.A., like most of the time.
A new ZTE smartphone has received the FCC certification. This device has been spotted with the model name ZTEA2121L. This device has been listed under the category Multi-Mode Digital Mobile Phone.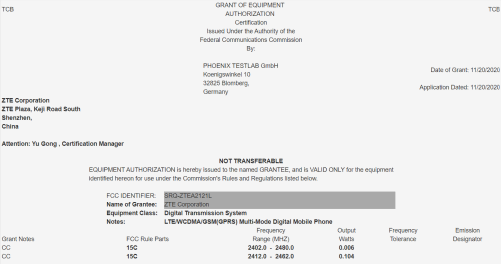 FCC stands for Federal Communications Commission. To have received the certification means that the device is eligible to be sold or manufactured in the U.S.A as electromagnetic interference from the device is under limits. This approval is mandatory for any electronic gadget before the release.
The Date of Grant is listed as the 20th of November 2020. The grant is authorized to ZTE Corporation and unfortunately, there are no other details about this upcoming ZTE smartphone.
FCC certification is one of the lasts to be cleared to be released in the market. Hence, we can expect an official announcement by the end of this month or in the first half of December 2020. But currently, not even the name original name of this device is unveiled!
We post related content and exciting updates every day, so stay tuned! Also, share this article with all those who might find this news helpful!