If you are looking to get some free stuff from NBA2K20 MyTeam, MyGM or MyPlayer, then we have some fresh and active locker codes that you can redeem.
NBA2K20 Locker Codes March Update 2020
Here is the list of currently active locker codes.
Flash Pack, Leap Year Pack, or Frostbite Pack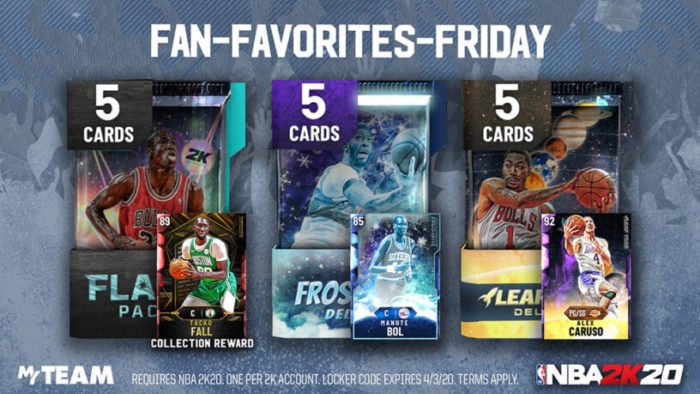 You can get one of three packs: The Flash Pack, Frostbite Pack, and Leap Year Pack with the possibility of Michael Jordan, Anthony DavisBulls, and Derrick Rose.
Code: FAN-FAVORITES-FRIDAY
Expiration Date: March 3rd, 2020
League Base Pack, Deluxe League Moments Series 2 Pack, or 1,000 MT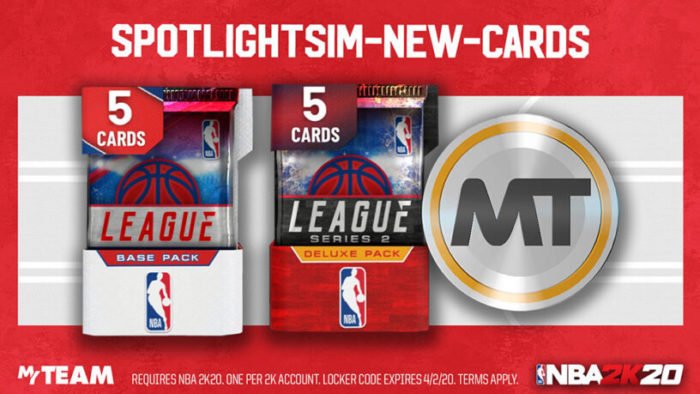 You can get either a base pack, deluxe league moments series 2 pack, or  1,000 MT with this code!
Code: SPOTLIGHTSIM-NEW-CARDS
Expiration Date: March 2nd, 2020
Series 2 Prime Pack
Get Ben Simmons, Dwayne Wade, or Kevin Duran.
Code: MT-PACK-MONDAY-PRIME
Expiration Date: March 2nd, 2020
MyPlayer 2KTV Head Tie
Get a free 2KTV Head Ti
Get a free 2KTV Head Tie for your player.
Code: #2KTVHeadTie
Expiration Date: Never
1 – 3 Tokens
You drop the ball, and if you land it in the center, you will get the maximum value of it and three tokens.
Code: HZ84F-HG82V-WPD76-37AYT-921DW
Expiration Date: Never
Three Tokens, 1,500 MT, or League Base Pack
You will get access to a ball drop game, and their you can win three tokens,1,500 MT, or a League Base Pack depending on where it lands.
Code: THANKYOUMYTEAMCOMMUNITY
Expiration Date: Never
Source: Progameguides