NBA 2K20 is a basketball simulation video game developed by Visual Concepts and published by 2K Sports, based on the National Basketball Association. It is the 21st installment in the NBA 2K game series and the successor to NBA 2K19.
Last month, 2K studios revealed the first My Team Prime Series 1. The Series 1 locker code features 5 cards which included NBA stars like John STOCKTON, Wilt CHAMBERLAIN, Tim DUNCAN, Derrick ROSE, and others.
Well, fans have been waiting for the NBA 2K20 My Team Prime Series 2 and it looks that 2K studios are going to reveal it soon.
---
---
Today, on various social media accounts 2K studios revealed that NBA 2K20 My Team Prime Series 2 will be featuring Dwyane Wade too. For now, the developers haven't revealed the full details of the Prime Series 2. But, we can expect all the details later this week.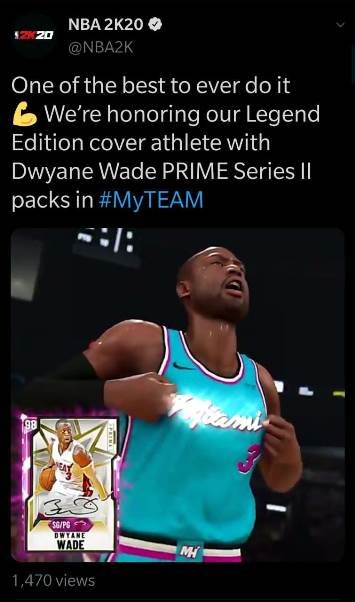 Stay tuned, we will update this space with the latest news and updates.