Gigantomachia is still wreaking havoc everywhere he goes and there is no one strong enough to stop him. UA students are also feeling hopeless in the current scenario. Deku is finally able to control Nana Shimura's quirk 'Float' which he uses to protect his loved ones on the battlefield against Tomura.
MY HERO ACADEMIA CHAPTER 284 SPOILERS –
The chapter starts with Giga rushing towards Tomura and crushing the whole forest and city in his path. Students are wondering why the Sedative hasn't worked yet, did the choices they make were even right? Dabi, Toga, Compress, and Spinner of the league are riding on Giga. We get to know that all the Nomus experiments were based on Giga.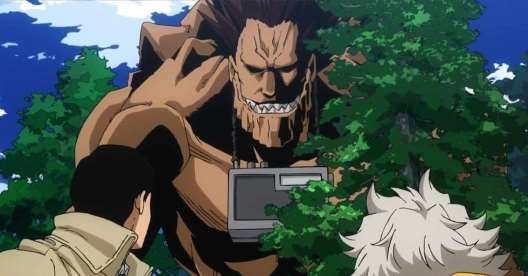 On the other hand, Aizawa is down after sustaining a very injury, Deku is super angry on Shigaraki, Rock Lock, Shoto, and Bakugo try to calm him down but they fail. Deku charges head-on towards Shigaraki. Suddenly Tomura's chest gets damaged and blood starts gushing out of it, he realizes that his transformation process was only 75% complete and it's the side effect. Deku activates One for All seventh user's (Nana Shimura) ability 'Float' and using Blackwip he picks up everyone and Floats in the air. Gran Torino is barely alive, remembers Shimura when they both used to work together.
In the upcoming chapter, we might get to see one on one fight between Tomura and Deku. Since Deku can now use three quirks of One For All there is a better chance of him defeating Shimura as he has been weakened due to the incomplete process. But the major problem right now is Gigantomachia who listens to know one nut his master and certainly doesn't care what comes in his path. There is no one to stop him. It will be interesting to see that how heroes will handle the Gigantomachia situation or maybe by some miracle the sedative shows its effect that will also be very good for the heroes otherwise a whole city will be crushed.
MY HERO ACADEMIA CHAPTER 284 RELEASE DATE –
The latest chapter was released on the 6th of August 2020. And since there will be a break next week, the next chapter will release on the 20th of August 2020 on the official sources like Viz.com.
Regularly visit our website to keep track of updates and schedules regarding the manga. We will update you if any changes take place.
Also, we, here at DigiStatement, do not support any kind of illegal sources. We encourage you to read the chapters from official sources only if possible.
WHERE TO READ MY HERO ACADEMIA CHAPTER 284 –
You can read the latest chapter of My Hero Academia online as soon as they are released on VIZ media and Shueisha's manga plus official websites and Apps. Note that the raw scans for new chapters are usually released 2-3 days in advance. So make sure you read your manga from the official websites as this will help the manga creators.