Mortal Kombat 11 is a fighting game that was developed by NetherRealm Studios and published by Warner Bros. Interactive Entertainment in the year 2019. It is the eleventh main edition in the Mortal Kombat series and a sequel to 2015's Mortal Kombat X, running on a substantially modified version of Unreal Engine 3. Many users have recently started facing many errors and bugs in this game. One of the errors in the game is 'server is currently unavailable error'. If you are facing this error and want to fix it, we have it all in this blog!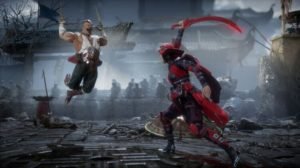 About Mortal Kombat 11
Mortal Kombat 11: Aftermath, an expansion for the game, was released in 2020. This update adds a new story mode, three new characters, new stages, as well as the return of stage fatalities and the friendship finishing move. Mortal Kombat 11: Ultimate Edition, an improved version of the game incorporating all downloadable content up to that date, was released for the PlayStation5, Xbox X, and S series in November 2020. 
Mortal Kombat 11 incorporates a Custom Variation feature that enables a character customization system analogous to the Gear system in NetherRealm Studios' previous DC Comics fighting game Injustice 2, which adds on the Variation system unveiled in Mortal Kombat X.
What is the 'server currently unavailable' error in MK11?
After the user has started a match, after a few while this error shows up on the screen and the user is forced to exit the game or it crashes to the main menu itself.
It has come to notice that this is a server issue, but there are some ways to resolve it from our end.
How to fix the 'server currently unavailable' error in MK11?
Neither there are patch updates for this error, nor causes are clear. Here we have some solutions which will help you fix the error at your end.
Method 1: Forward Port your Router
This Fix acts as a type of network cleanse, allowing you to rest assured that you are not to blame.
Open your router settings

After that, add the MK11 ports there

Then, enable them just to be on the safe side and avoid bad NAT issues.
Method 2: Use a LAN Connection
Instead of Wi-Fi, try switching to a LAN connection. The issue is not with the connections but with the MK11 servers themselves. Them appears that the servers are either not yet fully optimized or that the server load is too great for it to cope with.
Hence, to be on the safe side try having the best possible stable connection for smooth game-play.
We hope these methods help you fix the error from your end.