As rumors have gathered over the past few days, fans of the license are eagerly awaiting an official announcement from Activision. However, CODTracker has just seen a brand new page on the German PlayStation Store. A page that confirms the imminent release of the remaster of the Call of Duty Modern Warfare 2 campaign. Like all the pages of the store, we can see a trailer with the famous pack for Ghost as well as different images of the title. For a price of 25 €, this remaster is scheduled for March 31, that is to say, this evening at midnight.
🚨 BREAKING: The #ModernWarfare 2 Remastered trailer has been leaked on the PlayStation Store! pic.twitter.com/2I9t3ik3Zn

— DEXERTO Call of Duty (@DexertoIntel) March 30, 2020
Let's start by confirming that the release date of the game is scheduled for tomorrow, Tuesday 31 March 2020, the day on which Activision will officially release the video. By purchasing the game, which will contain only the single-player campaign of the first-person shooter, you will not only be able to relive the adventure with Simon "Riley" Ghost among the protagonists, but you will also have access to a series of exclusive bonuses that can be used both in Call of Duty: Modern Warfare that in the battle royale that takes the name of Warzone.
Among the extra contents, we find the Ghost skin in its original version, a pendant in the shape of a diving fin, a project for the assault rifleM4A1 in "Task Force" version, a project for the M1911 pistol in "One for One" version, a finisher, a sentence, an emblem and a wildcard.
According to the leak, the return of the Maps Backlot (from Call of Duty 4: Modern Warfare) and Village (Modern Warfare 3) is expected in the third season of Modern Warfare. Though the gameplay is campaign mode only, meaning no multiplayer, which might disappoint a few players but the gameplay has been remastered with improved textures, animations, physical rendering, and more.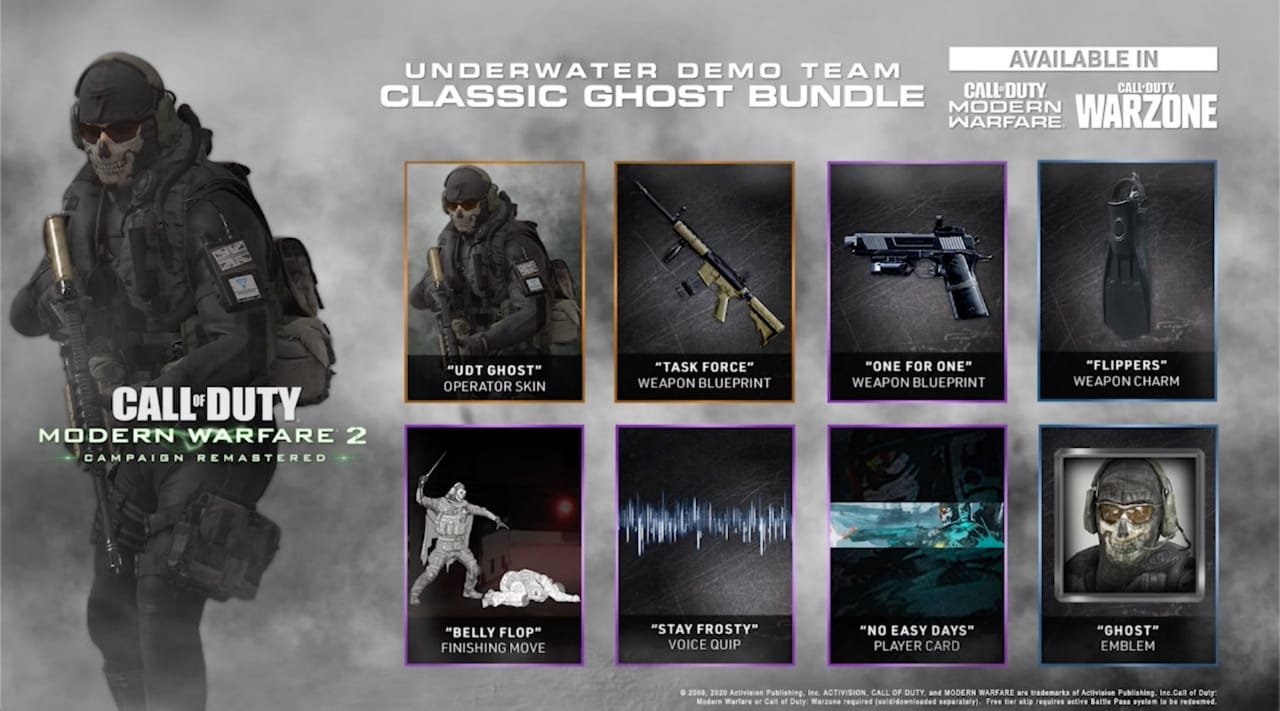 Also, you can buy the remastered directly or use your preloaded game to download it as DLC. All the contents of the Ghost can be found in the Underwater Ghost Team Bundle. The game will help you relive the classic contents of Modern Warfare so Happy Gaming!
Stay Safe!