MLB.tv is a subscription-based audio and video service. With two different service tiers, the service lets users listen and watch HD quality out-of-market Major League Baseball games live through a high-speed internet connection. Users can also subscribe to the 'MLB.tv All Teams' package. They can access every MLB team's live feeds along with in-game highlights and stats and live DVR control, full game archives, and pitch widget. There is another option called 'MLB.tv Single Team' that gives you access to a single MLB team's live audio and video feeds along with in-game highlights, stats, and live DVR controls.
It was initially provided as a 'Basic' and 'Premium' tier. The basic tier received only HD quality audio and video on desktop and laptop devices. Premium subscribers got access to live game audio and video on desktop and laptop along with mobile devices like Android and iOS devices by a free subscription to the At-Bat mobile app through connected devices that included smart televisions, Blu-ray players, TiVO DVRs, PlayStation 3, Xbox 360 and PlayStation 4.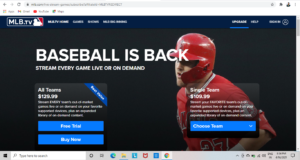 But the service faces some errors at a point in time. One such error is the network error that has been recently reported by the users. Users said that the app froze multiple times because of this error. Fire TV Stick users reported that they were facing this issue while using the app on their device. A user said that the app works well on PS4 but experiences network error on Fire TV Stick. Some users said that they were watching some content on the app and suddenly the network error popped up in between causing a disturbance in watching their favorite content.
A user said that he experienced the issue while scrolling the app. Some others said that they experienced it when they clicked on some content and it displayed the error instead of playing the content. If you are going through the same, you can follow these steps to fix the issue by yourself –
Check your internet connection and make sure it is working properly.
Switch off your Wi-Fi or data connection for a few minutes and turn it back on.
Make sure that you are using the latest version of the app.
Uninstall and reinstall the app.
Open the app on another device and see if the error still appears.