Minecraft Earth, the most awaited mobile game, is finally here. The game is available as the beta version and can be downloaded for free on both Android and iOS platforms.
With the new Minecraft Earth, developers are bringing an all-new experience to Minecraft lovers all over the world. A large number of Minecraft fans downloaded the game to experience the new AR-based game.
Several fans got the chance to experience the new game; however, some didn't get the opportunity to try out the game. Some players reported that they were not able to download the game. According to them, Playstore shows 'Your Device Isn't Compatible With This Version' error
If you are one of them, you might be wondering how to fix that. Well, don't worry, we are here to help. 
There are two reasons if you are also seeing a 'Your Device Isn't Compatible With This Version' error while downloading the Minecraft Earth from Playstore. Your device might not be running the latest or the minimum required version of Android OS. Or, your device doesn't have the Google AR Core app or support for the services.
These are the only reasons why you can't download the Minecraft Earth on your device. Well, fret not, as we are about to discuss the fix for this issue below.
Android Version Fix –
First of all, check if your device runs on the latest Android version or not. The minimum Android version required is Android 8. 
So, if not, try to download updates on the device, if available. If your device runs on any version below Android 8, you can't play the Minecraft Earth.
Google AR Core Fix –
Your device needs the support of Goggle AR Core. The feature comes inbuilt in most of the mid-range and flagship devices. Well, you can also check if your device already has the AR Core. 
To do this, simply go to the Playstore and search "Google Play Services for AR" or "Google AR Core." On Playstore, you can check out if the app is already downloaded or not. If the app is already downloaded, you must update the app to the latest version.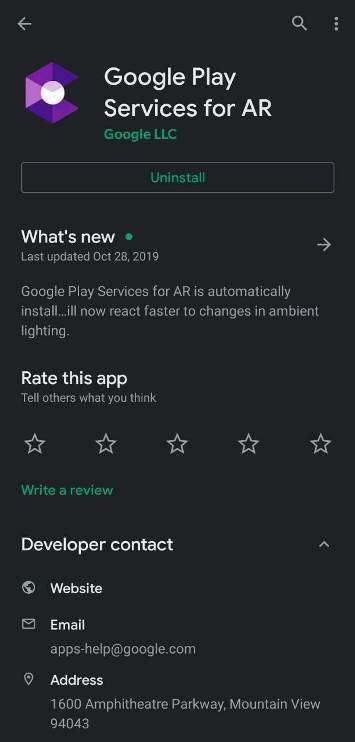 Download the app, if it's not installed on your device. But, if the app is showing any error while downloading, it simply means that your device doesn't support the Google AR Core.
Well, Mojang has also created a blacklist. The device included in the list will not support the new Minecraft Earth, even on running the latest Android and supporting Google AR Core. According to the developers, "devices below were tested with Minecraft Earth; however, their performance was so poor that Mojang decided to blacklist them from installing the game."
You can check out the blacklisted devices below.
Blackshark Shark 1S
Google Pixel
Google Pixel XL
Huawei Nexus 6P
LGE Nexus 5X
LGE LG G6
LGE V30+
LGE V30
Motorola Moto X (4)
Motorola Motorola one
Motorola Moto g(6)
Samsung Galaxy TabS3
Samsung Galaxy J5
Samsung Galaxy A8+(2018)
Samsung Galaxy J7
Samsung Galaxy A30
Samsung Galaxy J5 Pro
Samsung Galaxy A70
Xiaomi Redmi Note 7 Pro