Mojang has recently released its new snapshot for Minecraft Beta Java Edition and it provides another building block for the upcoming 1.16.0 Nether Update, which players are eagerly waiting for. The previous snapshots included changes to the biome distribution in the Nether and mob spawning criteria and more. This week's snapshot is called 20w20a and although it is smaller when compared to the previous releases, it still has a lot to cover so grab your diamond pickaxe and upgrade it to netherite because we are digging to the bedrock of this new release.
20w20a, as mentioned earlier is smaller than the previous snapshots. It mostly focuses on advancements in the Nether with the addition of a few new advancements, changes to some of the pre existing ones and the addition of a new game mode switcher debug menu, with a couple of bug fixes and more.
Advancement
20w20a brings 11 new advancements for beta players which are listed and explained as follows: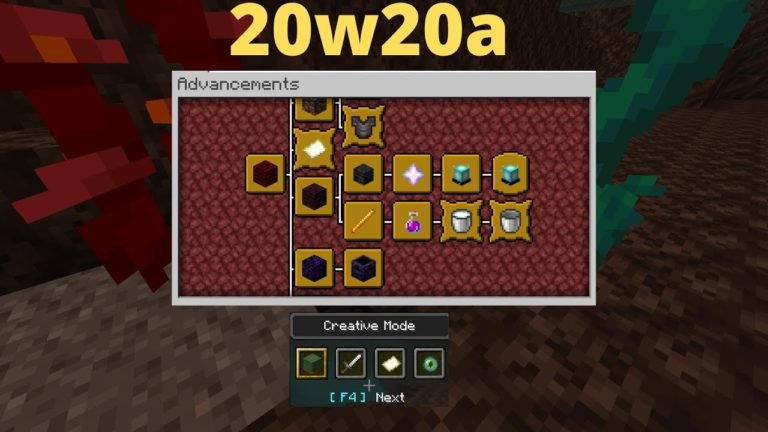 Hidden in depths – Players can unlock this advancement by obtaining Ancient Debris, which is a new rare ore obtained only in the Nether.
Cover me in debris – When players obtain a full set of netherite armor by upgrading their diamond armor, they are rewarded with this advancement.
Country lode, take me home – A very clever name indeed, to unlock this advancement players need to use their compass on lodestone. Lodestone is a new block which causes compasses to forever point at it, when they are used on it.
Not quite "Nine" lives – Since beds can't be used in the Nether because of an evil intentional game design, Mojang gave players the ability to make respawn anchors using crying obsidian to set respawn point in the Nether. They are charged using glowstone dust and upon being fully charged , players will be flashed by this advancement.
This boat has legs – Traversing in the Nether is not an easy job. To make things easy, a new mob was introduced called Strider. Use a saddle to mount it and ride it using fungus on a stick to unlock this advancement.
Hot tourist destinations – Visit all the Nether biomes to get this one.
Those were the days – Enter a piglin bastion to be awarded with this advancement.
War pigs – Piglin bastion have great loot in the chests it stores inside. Players can find lots of iron and gold ingots with enhanced tools as well. Loot a chest to unlock this advancement.
Oh shiny – Piglins love gold! So much so that if you accidentally agro a piglin you can throw away gold ingots to distract them. Do so and you will receive the Oh shiny advancement.
Who is cutting onions – This one is fairly simple. Obtain crying obsidian either from a ruined portal or by piglin bartering.
Not today, thank you – Deflect a projectile other than an arrow to make this achievement.
Game mode switcher
New F3 features has been introduced which will allow you to switch game mode with traditional "tabbing" functionality.
Hold F3 and tap F4 to open the menu. Tapping F4 will switch between game modes or you can use your mouse to do so. Release F3 to apply your selection. Since the last game mode is remembered, you can now toggle between your last and your current game mode with a single F3+F4.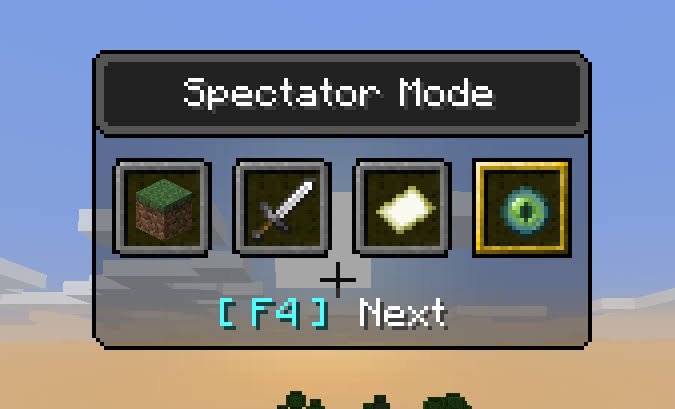 Press F3+N to switch between spectator mode and your current game mode. By default this would lead you to switching between spectator and creative mode, but 20w20a optimises it.
Bug fixes
Advancement 'Not Today, Thank You' can be triggered by non-arrow projectiles.
Bullseye advancement can be made when using a non-arrow projectile, even though the description explicitly mentions arrows.
Ice Bucket Challenge advancement can be obtained by collecting obsidian from bartering.
Striders are not part of the "Two by Two" advancement challenge.
Structure block offset can't be bigger than 32.
Throwing ender pearl whilst mounted doesn't teleport you.
Snapshots are available for Minecraft Java Edition. To install the snapshot open the Minecraft Launcher and enable snapshots in the "installation" tab.