The latest Minecraft update has been broken down into two parts. That's how you know there is a lot in store for users. With the first part of the Caves and Cliffs update already here, we are going to explore its features. In this article, we are going to learn how to get deepslate in Minecraft 1.17 update. Let's dive right in: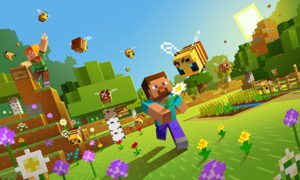 Minecraft
The Caves and Cliffs update is the latest addition brought to the game. The update will carry a lot of changes, some of which have been released already. The additions in Part 1 of the Caves and Cliffs update include new blocks, cool new mobs, and some biomes. However, this is not the end of the updates, as there is quite a bit in store.
Part 2 of the Caves and Cliffs update will add some exciting and scary new additions to the game. This will include new dark biomes, deeper caves, and the addition of Warden, a hostile mob. Other additions include taller mountains, deeper caves, new biomes, and new accessories for mobs. There will also be some blocks that will be added.
The latest update includes a new deepslate block. Here are some steps you can follow in order to get your hands on the deepslate in Minecraft 1.17:
Deepslate needs to be mined with a pickaxe.
When you break a block, the result will be a cobble deepslate block that will be dropped
The block is similar to a stone block. If you want to get a pure deepslate block, you will need to use a Silk Touch enchanted pickaxe.
Deepslate generates in blobs of 0-160 at -4 to 16 near bedrock
The types of Deepslate are:

Cobbled deepslate
Deepslate brick
Deepslate tile
Polished Deepslate

These can be used in several different crafting recipes to create items.
Read more about Minecraft here:
Read more about gaming on Digistatement