The world of Minecraft got more interesting recently when a Redditor, who goes by the name of Ennakon, added Herobrine to Minecraft via a data pack. The Herobrine added in the game is a powerful character with skills that are unmatchable. The Redditor added Herobrine as a boss, which gives him the ability to spawn servants, have magical powers, and lets him fly around. Coming back to the topic, a lot of players are facing the Sign-in issue with the Minecraft Pocket Edition. Read this blog and learn how to fix it easily.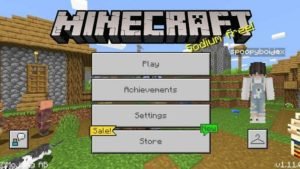 What is the Sign In issue with Pocket Edition of Minecraft?
Whenever players are trying to sign into their Minecraft account in the pocket edition of the game, they are facing some monotonous errors. In the play store version as well as the .apk version of the same, this error has been spotted.
Very rarely there is a problem from the game's end. Many reasons like network issues, outdated version of the game, system not supporting the game can be the cause of this nerve-wracking error.
Although the developers haven't commented on the error yet, players need not worry about it.
How to fix the Sign in issue with Pocket Edition of Minecraft?
Though there are no official fixes for the game, we have some methods which are going to help you fix this error at your end.
Method 1: Reboot your Wi-Fi Router
Quite some times, week internet might also bring up sign-in issues in your game.
Directly plug out the wi-fi router and wait until it completely drains out.

After waiting for a few minutes or so, plug in the router and wait till it initiates.

Connect your device to it and restart the game. You should now be able to sign in to your Minecraft account in the Pocket Edition.
Method 2: Check for Updates
Make sure your Minecraft: Pocket Edition is updated to its latest version.
Go to your Play Store, click on settings.

Navigate to 'Manage apps and notifications'

Scroll through and locate Minecraft, if any updates are seen, start the install.

After the install has been downloaded, restart your device and restart Minecraft.
The error should have been fixed.
In case, you are using a .apk version, delete the entire game from your device and then go to the website from where you downloaded the version and reinstall it. The Sign-in error can also be one of the glitches in the .apk file.