While most gamers look forward to updates due to the exciting new additions and adjustments they bring, sometimes updates can bring in a fair bunch of problems too. Getting your hands on the latest update could lead to some unseen errors. In this article, we are going to learn how to fix the Multiplayer is disabled error for Minecraft 1.17 update. Let's dive right in: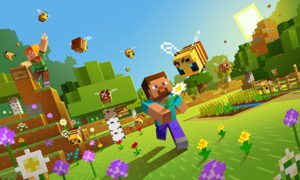 Minecraft
Everyone wants to know about the latest update, and all the content that is about to be introduced in the next updates. While the 1.17 update did bring a lot of changes and additions that players can enjoy, the main question players had was regarding its name. Why didn't the Caves and Cliffs update, not have any updates to the Caves and Cliffs?
Well, the full name of the update would shed some light on this question. That's right, the 1.17 update is named the Caves and Cliffs Part 1 update, which hints at a later part being introduced eventually. As far as we know, the 1.18 update will bring in the actual changes to the caves and cliffs of the game, along with several new additions.
Want to play with your friends, but can't? Are you facing the Multiplayer is disabled error for the Minecraft 1.17 update? Here are some steps you can follow in order to get rid of this error yourself:
Open up your browser of choice
Head on over to the official site of Microsoft
There, sign in with the same account that you are using to play Minecraft
Head on over to your account settings
There, check to see if you are in a Family group. If yes, leave the group immediately
In Your Info, make sure your date of birth puts you over 18 years of age
Scroll down till you locate a link to your Xbox Profile. Click on this link
You will be directed to your Xbox Profile, where you need to click on your Privacy Settings
Make sure your settings are set to 'Everyone' wherever required
In the Xbox One/Windows 10 Online Safety tab, make sure you Allow relevant settings.
This should do the trick. You should be able to enjoy Multiplayer with your friends.
Read more about Minecraft here:
Read more about gaming on Digistatement