In light of the coronavirus pandemic, the lives of majority of population of the world came to a halt. Offices, educational institutions all had to be closed due to lockdowns to control the spread of the virus. Technology came to save the day.
Microsoft with the Teams app has helped teachers across the globe to continue educating students. It has great set of features for teachers to take tests, quizzes. etc. Teams allow teachers to give assignments, Give students personal feedback on their performance and more. Teams also has integration with Microsoft's OneNote which lets teachers create class notebooks for students on which they suit their daily work.
Let us show you how to create a OneNote notebook in MS Teams – 
In the 'Your Teams' section, select the class in which you want to create the OneNote notebook.
After you have entered the new class, you will be able to choose between two options, 'Upload class materials' and 'set up Class Notebook'. Select 'Set up Class Notebook'.
In the next section, you will be asked whether you want to create a notebook with content from a previous notebook or create a 'blank notebook'. In this article, we are going to choose a 'blank notebook' so that you learn the entire process.
Now, Teams will show that your notebook will have four sections with different functions..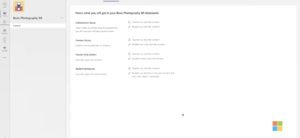 In the next step, you can choose to add sections to each student's notebook. OneNote already has some default sections, you can either remove these or use the sections. You can also add more sections as per your need.
Press 'Create' on the bottom right, the OneNote notebook will now get created. This may take a few seconds to complete. You will then be presented with a welcome message and a quick guide for all the features.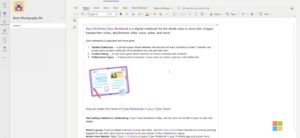 Click on the notebook icon. Here you will see all the different sections which you created for your notebook. Also, sections that you created for each student's personal notebook will allso be shown.
NOTE- Screenshots used in this video have been taken from Microsoft Education's Youtube Channel.