We always look forward to updates. They provide us with experiences we always look forward to. In some cases, it would be guns. Meanwhile for others, it would be a skin, or perhaps even a naming ID. For the fashion gaming fans, Roblox Gucci Garden update was a major one. But for the aviation fan in us, Microsoft brought a game, 6 years after the good times it gave us. Microsoft Flight Simulator 2020 came for the Microsoft Windows, Xbox One, Xbox Series X and Series S, OpenXR.
To summarise the game, Flight Simulator provides the safest flying experience during the ongoing Covid-19 pandemic. Using the assistance of Bing Maps, Microsoft Azure has got an AI that simulates the topography of Earth. Face all the wonders of weather, from the brightest of the sun to the harsh rains and thunder, generated by cloud computing. Get an authentic experience of aviation traffic in various airbases, as you wait to depart and land, thanks to the Azure AI. A pilot faces issues in landing the plane due to the runway, and now we can experience the same with the Simulator game. While gamers would not face devastation-like situations, you can get a top-view snap of the safari.
Microsoft Flight Simulator Marketplace Got Updated With 26 New Products
Another new marketplace update is here, and we are spellbound with the range of products available for sale. Here are all the products players can access from the Marketplace after June Development Update.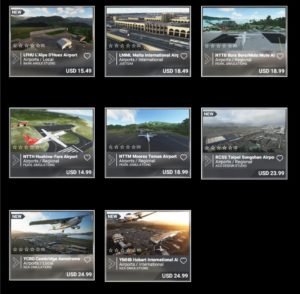 It's time to prepare the bank and cheque book. Players have got a lot to purchase in the current Marketplace. Henceforth, for many such updates, DigiStatement is your destination. Our library has got a range of articles, which has got the answers to all questions about technology and gaming. Got an error that is not getting fixed? We got solutions for all the errors across multiple platforms. Enjoy the best of technology and the latest of games, without any hamper.