Getting a random Black Screen while playing Marvel Snap is very annoying. Unfortunately, a lot of players have encountered this issue in the game. Well, the screen starts to get blurry and then fades to black. Folks have been trying to fix this issue for quite a while now. But, the lack of information has been a challenge so far. You might come across some useful tips but most of them are useless. So if you are searching for a solution as well, then you have come to the right place.
Marvel Snap is an amazing card battle video game. If you have played Hearthstone, then you will thoroughly enjoy this game as well. One of the leading directors of the game has worked on Marvel Snap. The game has all the elements of a basic card game but adds a lot of twists that make it much better. There are tons of different characters as well as 50+locations. This ensures that you do not get bored after playing a couple of matches. But, the game has been running into all sorts of issues both on PC and mobile. We are going to address one such issue that has been troubling the folks.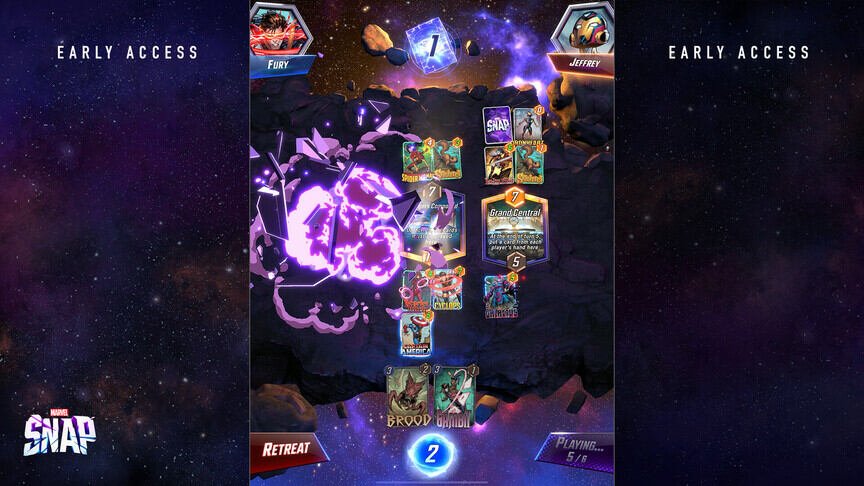 Marvel Snap Black Screen Issue: How to fix it?
The developers have acknowledged the Black Screen issue in the game and have provided some solutions for it. Although a proper hotfix update is due, these methods might help resolve the issue. We have mentioned all of them below for you to try.
1) Restart the game-
Sometimes, the game fails to load properly. In these situations, restarting the game can fix the issue. You should do this for both PC and mobile versions.
2) Reboot your device-
Similar to the previous step, rebooting your device can also resolve this error. A bad boot can have a lot of unforeseen effects while playing a video game.
3) Make sure your device can run the game-
A lot of times, you will run into the Black Screen issue if your device is either not compatible with the game or not powerful enough to run it. On PC, you will need at least an Intel Core i5-650 processor, 4 GB RAM, Nvidia GeForce GTX 650, and  4 GB available space to run the game properly.
4) Check your network-
An unstable internet connection can often cause this issue. If the game is unable to sync with its servers, then you might encounter a black screen. So, you can switch to another network on the mobile phone. As for PC, we recommend using an ethernet connection over a wireless connection. You should also restart your networking devices once in a while.
5) Tweak in-game settings-
If your system barely meets the minimum system requirement or is having difficulty running the game, then you should tweak some of the graphical settings to low. From the in-game settings, reduce the image quality and visual effects. This will help the game to run smoothly.
6) Update your GPU drivers-
Outdated GPU drivers are well known to cause all sorts of issues while playing video games. So, we suggest you visit NVIDIA's or AMD's website and download the latest version of the drivers. Always make sure that your GPU drivers are up to date.
7) Update your phone-
If you have a pending system update on your phone, then we highly recommend installing it. Phone manufacturers constantly update their device's firmware in order to fix small issues that boost the overall performance.
8) Clear space on your phone-
If you are playing Marvel Snapon your mobile phone, then make sure that you have enough free space on your device. If you start running into storage issues, then the game might throw the black screen error.
9) Reinstall the game-
If nothing else works out for you, then you can try reinstalling the game. Though, we recommend doing this as a last resort. You should also contact Marvel Snap Support and file a ticket. They will be able to assist your further on this topic.
Well, this brings us to the end of this article. We hope that you found it helpful. Stay tuned to Digi Statement, and happy gaming.