What do you think the future of smartphones looks like? A completely bezel-less metal and glass slab with multiple cameras on the back? A more refined version of a foldable smartphone like the Samsung Galaxy Fold or the Huawei Mate X? Current, smartphone trends would seem to indicate so. But what about our movies? If you have watched any movie with "futuristic tech" in it, you might have noticed that their displays are usually transparent. And I have to admit, that looks pretty cool. But we really have not seen something similar in the consumer market as of yet. We have seen phones with transparent backs, but those only reveal the internals of the phone.
Now we might all agree that phones with transparent displays will certainly look awesome, but are they going to be useful? Bezel-less smartphones provide a more immersive experience. Foldable phones can unfold to provide a larger screen or fold into a more compact form. But how would a transparent display enhance the user experience? I cannot think of anything, but that does not mean I am any less excited for it.
In January 2020, Samsung Electronics filed a patent which describes a technology that can be used to create a transparent smartphone. This technology can be used to in other consumer products such as TVs, monitors, laptops, game consoles and cameras. The patent goes into great detail about the different layers and components required to achieve transparency.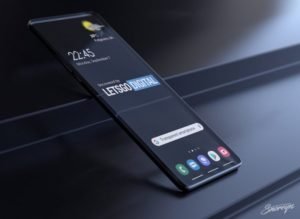 Now the folks at LetsGoDigital collaborated with Giuseppe Spinelli (aka Snoreyn) to create a series of 3D renders that visualise the patented technology. These renders are for illustrative purposes only, so bear that in mind. Nevertheless, the render looks slick and futuristic. And I would love to get my hands on one if Samsung ever decides to bring it to market. Companies file patents all the time, it does not mean all those technologies will ever make their way to market.
You can find out more about these renders here.