Lenovo and Moto are known for their spectacular phones in the budget segment. Lenovo had bought up Motorola back in 2014 from Google. A few years ago, Lenovo released the PC Suite tool for users. Lenovo PC Suite is a utility tool that allows the user to transfer files, recover data from bricked phones. etc. The utility tool works for both, Lenovo and Moto smartphones.
You can perform a lot of tasks using the Lenovo PC Suite like transferring files, upgrading your phone to the latest software and security patch, backup or factory reset your phone, screen capture through PC and much more. After installing this utility tool, you can perform all these tasks in a very simple and easy manner. The utility tool is not very complicated to use but if you are finding any difficulty in using the tool, you download Lenovo's PC Suite User Guide from here.
Here is how you can connect your Lenovo or Moto phone to the PC Suite – 
1. Download and Install the PC suite on your PC, but before connecting your phone, you will have to turn on USB Debugging on your phone.
2. Go into your phone's settings- About Phone.
3. Tap multiple times on the build number of your phone until it says that you are a developer now.
4. Then go to Settings- Developer options- Enable USB Debugging.
5 .Now, connect your phone to your PC using a USB cable and open the PC Suite.
6. On your phone, allow authorisation for USB debugging for the computer.
7. Now, Mobile Assistant will open on your phone and ask for permission to modify system settings.
8. Allow it and grant other permissions to Mobile Assistant for access to contacts, phone, SMS, storage. If Mobile assistant doesn't ask for permissions then reconnect the phone.
9. After all the permissions have been granted, Mobile Assistant will open on your phone and at the same time you will see your device info on the PC Suite app.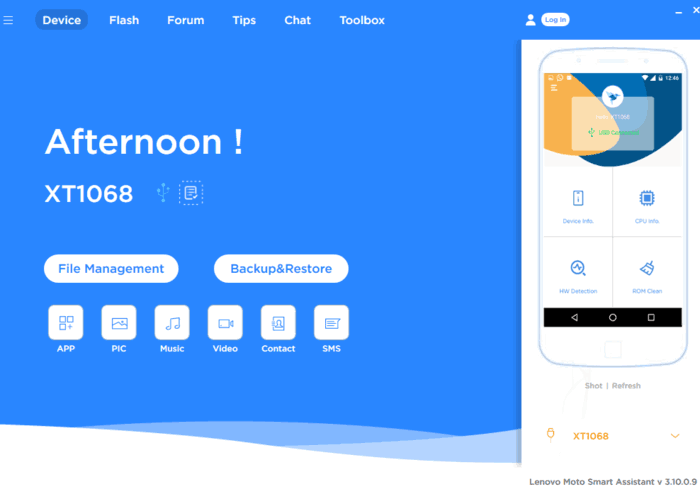 Software Details:- 
Name – Lenovo PC Suite
Version – 5.4.0
Download – Click Here