It's almost two years since Yuumi released on League of Legends and the champion has since received two skins, skins that are not very original. It did not take more for two artists to imagine magnificent skins for the champion, one of which strongly resembles the Pokémon Meowth…
Love her or hate her, Yuumi, the Keeper of the Mirror is already well established in League of Legends. In the two years that she has been exploring the rift, the champion has already received two skins: Headmaster Yuumi of the Academy and Yuumi heart-target.
The two skins are certainly visually successful, but sorely lacking in originality. We could even say that these are chromas on which Riot Games has added some flourishes. It must be said that, conceptually, the studio is quite limited in terms of skin on a cat. And yet, this is precisely what prompted the community to prove that – on the Keeper of the Grimoire – it was possible to change much more than the color of your coat.
Yuumi program by Amandine "Harimi" Oltra
– Program Yuumi –

This is the full project, with a ward this time, two icons a splash and a border ! I hope you like it, was fun for me to draw something a bit SF this time !

Support me on Ko-fi ♥ https://t.co/0cHrysGjHZ#leagueoflegends #artoflegends pic.twitter.com/LhKV0aw8jp

— Harimi (@Harimizz) January 10, 2021
This French artist is not at her first attempt on League of Legends. She has already, for example, developed a winter skin concept on Lillia – concept that she had explained in great detail. For Program Yuumi, it is exactly the same thing, beyond the splashart (already magnificent), Harimi made illustrations to show what the capacities of the champion would look like. She also created the champion's special icons, the loading screen, and everything. And it's so well done that it looks like a real Riot Games skin project.
So yes, Yuumi is just a cat, but this cybernetic reinterpretation of the Keeper of the Grimoire works perfectly.
Yuumi arcade or Miaoussmi by Zoe Zhu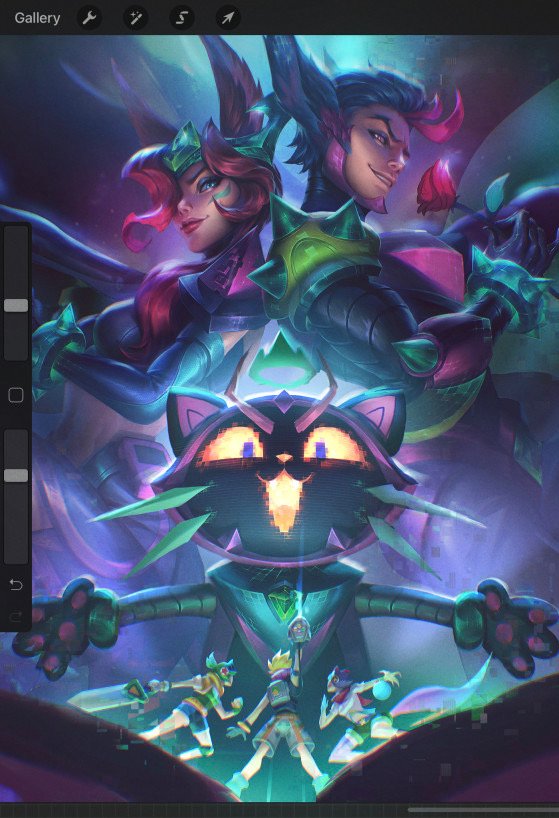 We stay in the cybernetic universe with a skin inspired by two sets also already existing on League of Legends: the Arcade and Arcade skins: Battle bosses. Even though the artist doesn't seem to clearly indicate it, Yuumi does seem to share some common traits with a…Pokémon, yes, yes. And that will probably have struck all the fans since the skin of our cat seems to be inspired by the appearance of Meowth.
We could even go to say that this is a Lolian reinterpretation of the famous Team Rocket with Xayah and Rakan in the role of Jessie and James. Zoe has created an illustration in which the Rebel, the Charmer and the Magic Cat appear in attack position. Although the art is not yet finished, it is already pretty clear that the artist has very clear ideas and the result looks promising. In front of Yuumi, you can see Ezreal, Ahri, and Riven Arcade ready to do battle. These two skins show above all that with a little imagination (and a lot of talent), even a cat can reinvent itself.
If you want to find out more about these two talented artists towards the arstation Zoe Zhu or the Amandine ArtStation "Harimi" Oltra.
And you, what do you think of these concepts? Follow us for more gaming news and updates.