Unveiled yesterday for the launch of the 2021 season, Viego, the new champion of the League of Legends universe, has appeared in Summoner's Rift following an update for patch 11.2 on the PBE. Here are all the details about the Fallen King.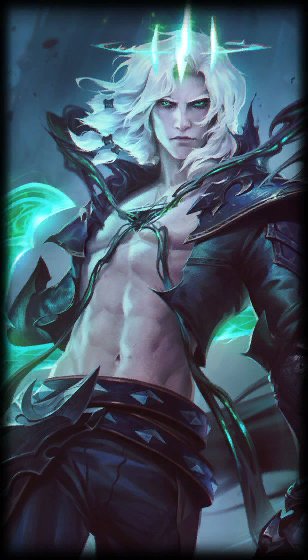 Statistics
Base Health: 560
Health per level: 95
Health Regeneration: 1.4
Health Regeneration per level: 0.14
Base RM : 32 RM per level: 1.25
Base AD : 55 AD per level: 3.5
Base Armor : 30
Armor per level: 4
Attack speed : Attack speed per level: 2.5
Base movement speed: 340
Attack range: 225

Passive Skill – Sovereign Domination
Viego can possess within 3 seconds after their death and for 10 seconds the champions he helps kill and heals for [8 + 2% bonus AD + 1.25 AP + 200% bonus attack speed ]% of the opponent's max HP. While in possession, Viego's non-ultimate items, attacks, and skills become those of his slain enemy. He also gains a free throw of his ultimate, Broken Heart. When he has an enemy, Viego also receives a 10% movement speed bonus when heading towards enemy champions.
Viego retains summoner spells, runes, and relics while in possession, but cannot use item assets or consumables. Passive cooldowns for items are shared among possessions.
Q- Blade of the Ruined King
Mana cost: none
Cooldown: 5 / 4.5 / 4 / 3.5 / 3 seconds
Passive: Viego's attacks deal 2/3/4/5/6% of his target's current health as bonus damage on impact. When Viego attacks an enemy he recently hit with a skill, that attack hits twice. The second hit absorbs health from the target instead of dealing regular damage, but still applies effects on impact and can critically hit. This passive skill is retained during possession.
Active: Viego strikes in front of him with his blade, damaging all enemies hit, inflicting [30/40/50/60/70 + 50% AD + 4312.5% ​​- 9543.75% critical hit chance (currently bugged numbers)] of physical damage
The second strike can critically hit, and applies the effects on impact as long as it doesn't have an enemy, and the healing is 175% against monsters
Bonus damage on impact deals a minimum of 10 / 15/20/25/30 damage, and deal a maximum of 50 damage against monsters.
The skill's cast time is reduced with attack speed, and deals 10 bonus damage to monsters in the jungle.
W- Spectral Maw
Mana cost: none
Cooldown: 7 seconds
Viego charges his attack then rushes forward, projecting an explosion of mist that stuns and injures the first enemy hit, inflicting 80/135/190/245/300 (+ 100% AP) magic damage to the first enemy hit and causing it Stuns for 0.25-1.25sec depending on attack load. Stun duration and mist range increase with charge time, but rush damage and range remain the same.
Skill cooldown is 3 seconds if interrupted.
E- Harrowed Path
Mana cost: none
Cooldown: 12/14/10/8/6 seconds
Viego emits a wave of black mist around a nearby wall. While in the mist, Viego is stealthed and gains 20/22.5/25/27.5/30% movement speed and 30/35/40/45/50% attack speed.
R- Heartbreaker
Mana cost : none
Cooldown : 120/100/80 seconds
Viego drops the body he owns and teleports forward to attack the enemy champion within range with the lowest HP percentage, slowing him by 99% and dealing [120% AD + 4950% critical strike chance (buggy numbers)] + [15/20/25% + 5% AD bonus] missing health as physical damage. Other enemies within range are knocked back and suffer [120% AD + 4950% critical strike chance (bugged numbers)].
Skin – Lunar Beast Viego