Latest updates are added at the bottom of the post
---
Patch 10.7 may see some major buffs to champions who have not been very impactful in the recent patches of League of Legends. The patch though available in PBE seems smaller than the latest update notes, but from the first look, it packs a punch with buffs to Akali, Kai'sa and many more & Fiddlesticks rework finally on the way. The patch will hit the LOL servers on April 1.
The massive patches with reworks and big changes after changes raised the bar for patch 10.7 so players might be a little disappointed.
Meta Changes?
Akali, Kai'sa, Galio, and Corki all suffered at the hand's Riot at the end of Season 9, all of them getting nerfed to the ground, but now this patch looks to revive the annoying champions of season 9.
On the current PBE, only Galio's buffs are up, which gives him a lot of defensive utility, with his ultimate providing the magic shield to all his allies for five seconds in an effective area.
Mark "Scruffy" Yetter went on twitter to tell us about the upcoming changes to: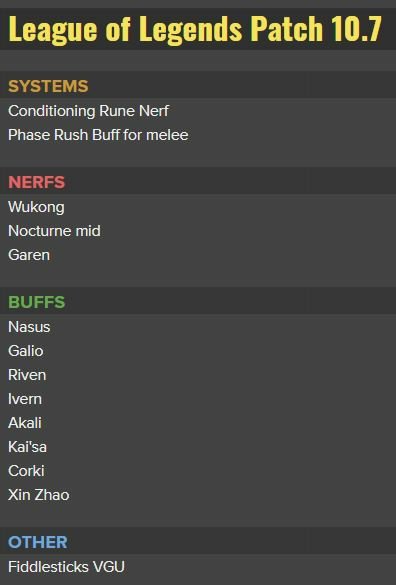 Nasus, Riven, Ivern, and Xin Zhao are also in line for buffs on Patch 10.7.
Wukong Nerfed Yet Again
Three champions are on the receiving end of Riot's wrath, especially Wukong, the cut for which was much-needed. It has to survive another brutal nerf session while Nocturne mid and Garen are also scheduled to get some toning down.
After the release of Patch 10.6, Wukong got an immediate hotfix having power stripped down from its passive. The other two champions are a little bit shocking to be on the list, but pick rates and statistics suggest that they are strong in the right hands. The changes to come are still unknown, and we will have to wait and see.
Fiddlesticks' VGU will be up on April 1. His kit got some serious rework to make it relevant to the game. Terrifying, a single word to describe him right now.
---
Update 1