League of Legends (LoL) is an online multiplayer battle arena video game developed and published by Riot Games. The game came out more than a decade ago in the October of 2009. Since then, LoL has grown as a wide sensation in the gaming community by sporting over 27 million players per day, according to resent statics.
However for a game this old, to retain its relevancy in the community it should hold up graphically just as well as it does gameplay wise. Recently, Riot Games announced that they are pushing a new patch for League of Legends. The details for update 10.15 suggest that Riot has planned to clean up some old stuff and modernize ancient graphics. Certain leaks have been spotted with pictorial evidence stating that league legends Ahri and Udyr are getting complete VFX overhaul.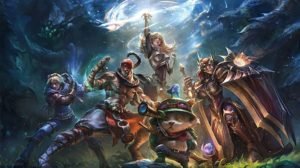 League of Legends : Ahri
The in-game description for Ahri reads :
Innately connected to the latent power of Runeterra, Ahri is a vastaya who can reshape magic into orbs of raw energy. She revels in toying with her prey by manipulating their emotions before devouring their life essence. Despite her predatory nature, Ahri retains a sense of empathy as she receives flashes of memory from each soul she consumes.
The leaked screenshots from update 10.15 for Ahri look visually stunning :
The update visual effects gameplay for Ahri was also leaked sometime ago. Click here to check out the Ahri updated VFX gameplay.
League of Legends : Udyr
The in-game description for Udyr reads :
Udyr is more than a man; he is a vessel for the untamed power of four primal animal spirits. When tapping into the spirits' bestial natures, Udyr can harness their unique strengths: The tiger grants him speed and ferocity, the turtle resilience, the bear might, and the phoenix its eternal flame. With their combined power, Udyr can turn back all those who would attempt to harm the natural order.
Check out these leaked screenshots for updated Udyr visuals :
You can also click here to see the updated VFX Udyr gameplay.
Conclusion
These leaks have gone viral in the League of Legends community. There have been several threads about these new chances on LoL's sub-reddit. Overall fan perception and reception for these modern VFX for Ahri and Udyr seemed very positive. Fans are happy to see these new graphics which look way better than what was present earlier.
Though, there were some people who brought up an issue with the clarity regarding the stances of the legend. According to these complaints, the older visuals were very clear about it. We have looked into it and thus we suggest waiting for Riot to come out with the final product.