LoL – League of Legends prepares its next patch 10.21 that will bring various updates and changes, focused on balancing characters, gameplay improvements and aesthetic elements.
In recent times, Riot Games has been characterized by delaying some patches, to mention an example of patch 10.16, it is expected that this occasion will be different. LoL patch 10.21 is scheduled to hit production servers on Wednesday, October 14, which would include new items, improvements, and skins under LoL (League of Legends) season 11.
The patch 10.21 would bring changes to achieve balance of champions, which among others include improvements to Katarina is amended with respect to its impact effects, passive skills and his ultimate, it seems are a little out of control. It also highlights a mini rework that will have the champion Viktor.
Additionally, patch 10.21 would also bring 2 sets of skins to the game. One set based on Halloween and the other is even more futuristic from the Odyssey line for the champions: Kha'Zix, Aatrox, Sivir, Twisted Fate, and Karma.
The character Fizz will have a "Little Devil" look, similar to 2016's Teemo. Ammu will get a "Pumpkin Prince" skin and Elise will get a "Bewitching" skin. For which he enters the group formed by Miss Fortune, Morgana, among others.
LEAGUE OF LEGENDS PATCH 10.21 BALANCING CHANGES
It is worth mentioning that everything on this page may change according to what is happening in the PBE and the information passed on Twitter will be changed here, so always keep following this page until the official launch of Patch 10.21
Champion balance changes
It is worth noting, League Fans, you may want to go to the Item and Store Changes section below to get a more complete picture of the context behind the following champion changes!
CHANGES IN THE BALANCE OF THE PRE-SEASON CHAMPION
(" The goal of most of these changes is to ensure that champions work correctly with the new item system, while maintaining compelling build choices")
Caitlyn – nerfed
Headshot (Passive):
Critical strike chance now grants 25% less bonus damage to headshots
Jhin-Changed
Whisper (Passive):
Critical damage reduction has been changed to [14% (150% damage)] from [25% (150% damage)]
Critical bonus bonus decreased to [3% AD for 10% crit] from [4% AD for 10% crit]
Katarina – Balancing
Voracity (Passive):
This ability "now applies on-hit effects to all units hit"
Shunpo (E):
This ability now applies to impact effects
Death Lotus (R):
"Divide the damage into (Base + AP ratio) magic damage and (AD attack speed rate + Attack) physical damage."
This "now applies on-hit effects at 33% efficiency to all units hit (each unit is hit by a total of 3 x kat's on-hits over the total channel duration of 2.5 seconds)".
Kayle – Changed
Divine Ascension (Passive):
Attack speed per stack has changed to [30% + 10% per 100 AP in 5 batteries] from [6% (30% in 5 batteries)]
Senna – Changed
Statistics:
Rate of attack speed increased to 0.32 attack speed per level decreased to 2.5% from 4%
Absolution (Passive):
Crit damage reduction decreased to [14% (150% damage)] from [35% (130% damage)]
For 20 souls, the chance of crit has decreased to 10% from 15%
The conversion of excess crit to lifesteal changed to 20% (+ 3% per 100 AP) of a 20% apartment
Dawn shadow (R):
The AP DAMAGE ratio has increased to 80% from 50%
Tryndamere – changed
Battle Fury (Passive):
"Chance crit by fury point" changed to 0.3-0.6 from 0.35-0.5
Viktor – change
Glorious Evolution (Passive):
Removed! Viktor doesn't start now with Hexcore in his inventory, and he can't buy upgrades
It's new! "Viktor gains an evolution point when he completes a mythical or legendary item" ("Each evolution point updates a spell and grants + 10% of 10% of total AP permanently")
Ray of Death (E):
Mana cost decreased to 50/60/70/80/90 from 70/80/90/100/110
The proportion of laser AP increased to 70% from 60%
The proportion of post-shock AP decreased to 60% from 70%
Volibear – changed
The Relentless Storm (Passive):
Attack speed now has a ratio of 4% per 100 AP per stack
Thundering Smash (Q):
Movepeed now receives a ratio of 3% per 100 AP (which is doubled for champions)
Sky Splitter (E):
The cooling decreased to 15/14/13/12/11 of an apartment 15
The damage cap against minions and monsters has changed to [150/300/450/600/750] from [150/250/350/450/550]
Yone – changed
Hunter's Path (Passive):
Bonus strike chance increased to 150% from 100% Damage reduction from crit strike increased to 15% from 10%
CHANGES IN THE MANA SWIMMING POOL
("To compensate for the changes in Tear and the removal of mana in Sheen in the Pre-season", as detailed by Browning on Twitter here )
Anivia – nerfed
Flash Frost (Q):
The mana cost decreased to 60/70/80/90/100 from 80/90/100/110/120
Glacial Storm (R):
Mana cost decreased to 60 (+40/50/60 per second) from 75 (+40/50/60 per second)
Cassiopeia – nerfed
Twin Fang (L):
The mana cost has decreased to 50/45/40/35/30 for an apartment 50
Ekko – Buffed
Statistics:
Mana increased to 330 from 250
Mana regeneration increased to 8 from 7
Fizz – Buffed
Statistics:
Base mana increased to 400 from 317.2 Mana regeneration increased to 7 from 6
Sylas – Buffed
Statistics:
Mana base increased to 350 from 280
The following champions had their Mana per level adjusted at 20 each, as explained by the dev on Twitter. This means that the new values ​​are as follows:
Camille – was 32 before, now 52
Darius – it was 37.5, now 57.5
Fiora – was 40, now 60
Hecarim – was 40 before, now 60
Illaoi – was 40 before, now 60
Irelia – was 30 before, now 50
Jax – was 32 before, now 52
Kayn – was 50 before, now 70
Nasus – was 42 before, now 62
Olaf – was 42 before, now 62
Twisted Fate – was 19 before, now 29
Udyr – was 30 before, now 50
Vi- there were 45 before, now 65
Warwick – was 35 before, now 55
Xin Zhao – was 35 before, now 75
Yorick – was 40 before, now 60
Zilean – was 30 before, now 45
Rune changes
Statistics
Refill reduction
Runes CDR statistics changed to "+8 Ability Haste" in the game
Ravenous Hunter (D4)
The effect has changed!
"Heal for a percentage of the damage done. Heals: 1% + 2% per Bounty Hunter stack. Bounty Hunters Stacks are won the first time you have a takedown on each enemy champion. Healing reduced to a third against non-champions. "
Conqueror (Precision Keystone)
Effects:
Adaptive Strength per stack increased to 2-5 from 1.7-4.2 Healing effect decreased to 10% from 15% Range healing effect decreased to 6% from 8%
Presence of the Mind (P2)
New effect!
"Damaging an enemy champion increases your mana regeneration by 1.5-11 (80% for range mana) per second for 4 seconds. All energy users gain 1.5 energy per second, instead. Felling restores 15% of its maximum mana or energy. "
NEW RUNE: Legend: Destroyer (P3)
Effects:
"Earn 2% armor bonus and magic penetration bonus for each stack of legends (max 10 stacks). Earn progress toward stacks of legends for each champion takedown, epic monster drop, big monster kill, and minion kill. "
Legends: Bloodline (P3)
Effects:
Max stacks have decreased to 15 from 20
Transcendence (S3):
New effect!
"Earn bonuses when you reach the following levels: Level 5: +5 Skill Haste Level 8: +5 Skill Hurry Level 11: When the Champion falls, reduce the remaining cooling of basic skills by 20%."
Cosmic Vision (I4)
The effects have changed:
"+15 Summoner Spell Haste +10 Item Haste"
Item changes
The list of pre-season item changes is colossal, so we're linked to Riot's complete summary of all Myth and Legendary item changes for you to delve into here (the post also has deets on which items are new and removed) .
"We are about to debut at PBE for a six-week-long testing period," says Riot in the post, "and we want to share a preview of the 22 new mythical items you can expect for this November, in addition to a few dozen new and updated Legendary items. This is not a complete picture of the entire item update it has to offer, but we wanted to focus our first look at the most splashed item levels.
"Cleaning note : Things will be in a very early state when you first see them, but expect changes to things like icons, item names and effects, visual and sound effects, statistical values ​​and more as we polish all over the course of our PBE month and a half! Except with massive table entries, such as item additions, removals or rework, however, this preview page will not be updated after publication. The item system will be immensely changed in the preseason, and documenting our attunement tuned for this review before it goes live will not help players understand what to do on the first day. When patch notes come out, they will have all the details as usual.
Targeting no change to Gold Efficiency on items after preseason

More satisfaction – yes
More choices – yes
More power – no

Eg legendaries have a reduction in stats to make room for the new Mythic passives

Not everything is tuned yet, but wanted to put our goals out there

— Mark Yetter (@MarkYetter) September 29, 2020
Dorans ring restores health if you have no mana on kill. Opening it up to a few more AP champs.

— Mark Yetter (@MarkYetter) September 29, 2020
Champion Skins
PBE Preview: Tales from the Rift

😈 Little Devil Fizz
🎃 Pumpkin Prince Amumu
🕷️ Bewitching Elise pic.twitter.com/AfpG4tLD7f

— League of Legends (@LeagueOfLegends) September 29, 2020
The company has even been particularly active by integrating no less than 9 new skins. Among them, 5 belong to the Odyssey theme, which may presuppose a new temporary event.
Kassadin also received a Hextech skin. He joined the closed circle of the privileged, where we already find champions like Amumu, Alistar or Poppy. To get this skin, however, you will have to be patient and/or spendy, the time to accumulate several rare gems (10).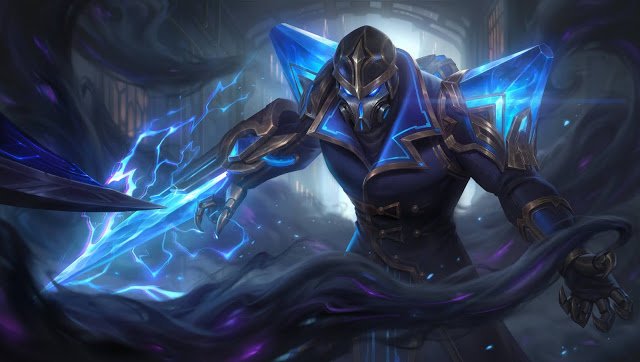 These 9 new skins have just been announced, so we are waiting for more visuals and more information. For example, we do not know the price of some. There could also be some modifications (details, colours…) as the PBE server remains a test server. We advise you to come back regularly to our follow-up so as not to miss anything!