Developed by Velan Studios, the fan-favorite dodgebrawl game, Knockout City Limited-Time Event, Heatwave is starting soon. If you interesting to know when it is going to start and what new features will be coming, continue reading.
Knockout City
With the release of the latest bug fixes in the game, players can now enjoy Knockout City to the fullest. Well, that's not all. Now, Knockout City is releasing a limited-time event named HeatWave which will be featuring a ton of new content and new features including a new limited-time mode that we believe will enhance the gameplay experience even more. So, what will the event cover? Find out details below.
Know more about new games by visiting our official website here.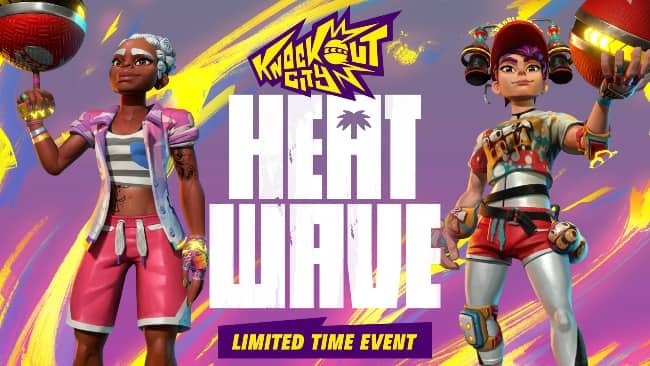 Knockout City Heatwave Limited-time event
Velan Studios revealed that the limited-time event, Heatwave will be starting on June 22. Heatwave will be bringing a summer-themed event to the game. During this event, players will be required to find hidden ice-pops hidden all over the sprawling Knockout City maps. Now, after collecting they can use these ice-pops to unlock cool limited-time items, like an Ice Cream Truck glider or a new intro-pose. So, find the Ice Pops and earn Heatwave Tickets redeemable in the Heatwave Event Shop.
🚨Just Announced! 🚨
It's going to be a Heatwave! 🌞🏖 Keep cool in our first event by collecting Ice Pops, strategically hidden all over Knockout City, earn Heatwave Tickets and redeem them for exclusive items! Starts June 22nd! pic.twitter.com/c5Nf2Sp5fT

— Knockout City (@knockoutcity) June 16, 2021
Also, if players Complete all the Heatwave contracts, the Legendary Ultimate Hologram, the Fire Hydrant will be unlocked.
The game devs will also be adding two new playlists to the Heatwave Event.
In 1v1 All Special Balls, players go head-to-head in individual battles with every special ball in play. The Triple Team Chaos mode will see three teams competing at once in 2v2v2 matches.
Well, the event is starting on Jun 22 and will be ending on July 5th. So, if you are interested, this is the right time to play the game and level up. You can play the game for free up until level 25. After that, you have to purchase it to continue accessing the game.